Zero hunger makes Ebonyi most important food basket of Nigeria — Obasanjo
By Peter Okutu
ABAKALIKI—FORMER President Olusegun Obasanjo yesterday expressed optimism that the Zero Hunger programme of the Federal Government would make Ebonyi one of the most important food baskets of Nigeria.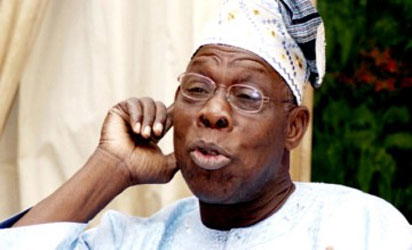 The former President, who spoke during the 2nd meeting of Nigeria Zero Hunger Forum meeting held at the International Conference Centre, ICC, Abakaliki noted that the goals behind the Zero Hunger Policy of the federal government was not only for the elimination of hunger among Nigerians but to also improve their living standard through an implementable agenda and network of agricultural programmes and activities.
"The aim of zero hunger is not to have money locked up somewhere and being dished out; the aim is to make sure that the policies that are required; the programme that will take us to the promised land are implemented by the federal, states, local government areas and communities, individual farmers, NGOs and international organizations. We are a group of actualizers.
"We will go round this beautiful state; we are looking for agricultural programmes to implement and policies to actualize."
; we want to help the state in any area the state might need help; what we have seen that is going well and or wrong; the governor will be telling us about the next level; production of all commodity that the state can produce; we want to make this state, a most important food basket of Nigeria.h
In a welcome address, Governor David Umahi of Ebonyi State who gave the assurance that the Zero Hunger policy of the federal government would succeed if Nigerians change their attitude even as he said it would not be an easy venture.
Umahi further thanked President Muhammadu Buhari for giving support to the agricultural policies of his administration adding that the state was would in the near future establish rice mills across the 13 local government areas of the state.
gAchieving zero hunger is possible if Nigerians change their attitude;  it is not going to be easy; Borno has shown resilience in tackling the situation in the north east; it would have been much more than what we are seeing today; thatfs why we support Mr. President to make agriculture our main stay; he has given unprecedented support to ebonyi state. Ebonyi under my watch has great passion for agriculture and we have made lots of impact in our one man one hectare policeh.
The Programme which continue today (tomorrow) would witness tour to several agricultural sites and establishments across the state.
THE Independent National Electoral Commission (INEC) yesterday assured that the  November 18, 2017  governorship election in Anambra State would not only be free, fair and credible, but an enjoyable exercise.
The Resident Electoral Commissioner in the state, Dr Nkwachukwu Orji, who gave the assurance during the Election Management System (EMS) implementer workshop for the staff of the commission in Awka, said INEC had put in place all necessary machineries in place to ensure that the electorate cast their votes in an environment devoid of any form of hostility.
According to Orji, previous elections in the state had been characterized by voter apathy as a result of various ugly experiences encountered by the voters before, during and after the elections.
He said: "Our commitment is to go beyond mere offering free fair credible election. That is guaranteed. What is now needed to be added is to make elections enjoyable.
"People need to move around freely and comfortably and to cast their votes without any molestation or harassment, and that their votes must count."
"If you tell them that election would commence by  8am  and end by  5pm, you must be sure to keep to the time. You must also guarantee early arrival of both officials and necessary materials.
The post Zero hunger makes Ebonyi most important food basket of Nigeria — Obasanjo appeared first on Vanguard News.
Tags 2014
You may also like...