Wofai Samuel establishes New Frontiers
….Anchors OTL Africa Downstream Week.
BY IYABO AINA
The 2017 annual Oil Trading and Logistics – OTL Africa Downstream week, organised in collaboration with key partners in government, recently took place at the Oriental hotel, Lagos, and was co-anchored by International media personality, Wofai Samuel, who is unarguably the first female compere' on the oil Trading Logistics Africa Downstream Conference Platform after eight years.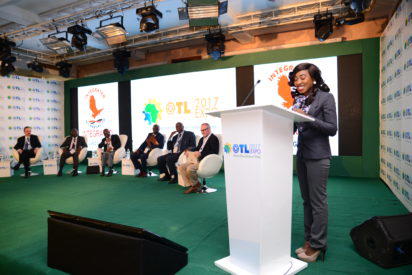 According to reports, the event is the continent's leading business forum for market insights, emerging opportunities, products showcase and recognition of excellence in Africa's downstream petroleum value-chain.
It featured a strategic conference, dedicated industry exhibition and the annual OTL Downstream Industry Dinner.
Speaking at the event, Mr Ayo Ajose Adeogun, CEO Oando refining limited, stated that private sector investment, is the path to sufficiency and competitiveness in the downstream sector.
Also, Captain Emmanuel Ihenacho, Chairman Integrated oil and Gas limited, mentioned that NNPC has pledged to provide 60% crude for modular refinery operators, while they source for 40% .
Dr. George Nicolaides, Director refining Operations Dangote, added that, every molecule of crude should be extracted and processed however it can.
Finally, Mr Nnamdi Okonkwo, Managing Director, Fidelity bank PLC, advised operators to integrate with producers as that will help mitigate Forex exposure.
Other panelists, included, Henry Ikem Obih, Group Executive Director and Chief Operating officer (Downstream) NNPC. Victor Eromosele, CEO mentor energy consulting. Tariye gbadegesi, senior vice president African finance corporation. Dolapo Oni, Head Research, CEO Bank. Adebowale Olujimi, M.D EMADEB Energy Services Limited.
Rasaq Shittu, customer service UBA,
Dayo Adesina, Nigeria LNG association. Ian Brown, MD Navgas limited. Bernard Agube, from the office of the vice president of Nigeria on implementation of LPG. Mordecai Ladan – Director, Department of petroleum resources. Mele Kyari G.M Crude oil marketing, NNPC. Shiraz Gany, CEO Petrocam. Simon Warren, Vitol S.A. Gabriel Ogbechie, M. D Rainoil Limited. Adeyemi Adetuji, M.D NNPC retail.
Engr. Bill okoye, ED NPMC. Emeka Akabogu senior partner, akabogu and Associates & Chairman OTL. Engr. Greg Ogbeifun, President Ship Owners Association Of Nigeria, Anibor Kragha, COO NNPC Refinings and petrochemicals. Engr. Anthony ogbuigwe – past President African Refiners Association. Mr Gary still, African Refiners Association. Dr. S. Ihetu, energy equity resources. Reginald Stanley – CEO petrowest Ltd. Giaus Obaseki Chairman, board of directors for brass liquefied natural gas. Engr. Busari Labor, Deputy Director Oil services NNPC. Alhassan Tampuli, CEO, NPA, Ghana. Dakuku peterside, DG, Nigerian maritime and safety agency, Nimasa. Tunji Oyebanji, CEO 11 Old, former Mobil Nigeria plc. Kallamu Abdullahi, G. M Renewable Energy, NNPC. Good Aluko, G.M Operations, Total Nigeria Limited. James Gooder, Senyo Hosi.
The post Wofai Samuel establishes New Frontiers appeared first on Vanguard News.
Tags 2014
You may also like...