UCH 60TH ANNIVERSARY: Govt alone can't fund infrastructure — Osinbajo
By Ola Ajayi
Ibadan—Vice President Yemi Osinbajo has lamented that government cannot adequately fund most of its infrastructure commitments adding that it will seek private sector funding.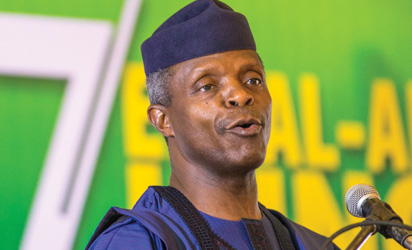 Also, former President, Chief Olusegun Obasanjo has lamented the current state of tertiary health care institutions across the country saying poor funding and ageing infrastructure have made them more worrisome.
They said this at a formal launch of Sir Kessington Adebutu Geriatric Rehabilitation Centre, University College Hospital, Ibadan which kick started activities lined up to commemorate the diamond jubilee of the foremost teaching hospital.
Notable Nigerians present at the epochal ceremony were Minister of Health, Prof Isaac Adewole; Governor of Ondo State, Arakunrin Rotimi Akeredolu; former Chief Medical Directors, CMDs, of the UCH, Professors Oluwole Akande and Abiodun Ilesanmi; Sir Keshington Adebutu, donour of a multi million geriatric centre, and Emeritus Prof Theophilus Ogunlesi. Traditional rulers including Olubadan of Ibadanland, Oba Saliu Adetunji and Alaperu of Iperu Remo, Oba Adeleke Idowu and others.
Govt alone can't develop infrastructure — Osinbajo
In his remarks, Osinbajo said that funding of education should not be left for the government alone.
Osinbajo said: "It is clearer by the day that government alone cannot adequately fund most of its infrastructure commitments."
Also, he said: "For the first time in almost two decades we are spending as much as 30% of our budget on infrastructure. Our 2016 capital spend of about N1.3 trillion is the highest in the nation's history. Yet we are still a long way from adequately dealing with the massive infrastructure deficit. We have to seek greater private sector funding.
"It is now clearer than ever before that the private sector is the key to settling the institution's funding needs. The discipline of justifying funds given by the private sector will be important in the prudent and effective use of funds. I commend the management of the hospital for adopting Public Private Partnership initiatives in many areas of service delivery."
 Poor healthcare
Chief Obasanjo maintained that, "the current state of our tertiary health care institutions including the University College Hospital, Ibadan is worrisome because of poor funding, challenging and ageing infrastructures and recurrent strike actions of the health workers. What is more, the mortality report documented by the hospital over the past     five years shows a steady trend in the incidence of cancer related to deaths and collectively, non communicable diseases account for almost 80 per cent."
The former President, who was chairman of the occasion, in a statement he sent through a renowned medical expert, Dr Femi Majekodunmi, stated that "It is disheartening to know that Nigeria with an estimated population of over 180 million does not have a dedicated one-stop-shop cancer centre when India can boast of over 120 such centres."
The post UCH 60TH ANNIVERSARY: Govt alone can't fund infrastructure — Osinbajo appeared first on Vanguard News.
Tags 2014
You may also like...