Trump to inspect border wall prototypes on California trip
Fresh off a cabinet reshuffle, President Donald Trump was headed for Democratic stronghold California on Tuesday to inspect prototypes of the controversial border wall with Mexico that was the centerpiece of his White House campaign.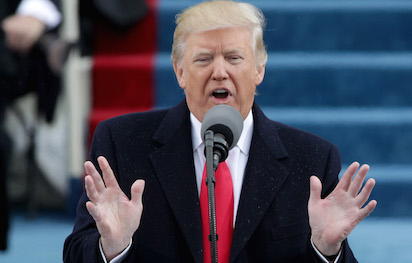 "I'll see you at the wall, I'll see you at the wall," an upbeat Trump told reporters after explaining his decision to replace Rex Tillerson as secretary of state with CIA chief Mike Pompeo.
"We're going to to be looking at the prototypes, which is very important to our country," he said before leaving the White House for Air Force One and the flight to California.
Trump's visit to the "Golden State," the most populous in the country, is the Republican's first since his election and comes more than a year after he became president.
California has been at the forefront of resistance to Trump's anti-immigration agenda and at odds with his stance on a number of other issues, from gun control to marijuana to the environment.
Trump will fly into Miramar air base in southern California and then go to San Diego to see prototypes of the wall he wants to build on the southern border.
Eight full-scale models made of concrete and steel have been erected side-by-side at Otay Mesa along the border with Tijuana, Mexico.
Colored beige, brown and gray and up to 30-feet (nine meters) tall, the prototypes tower over the existing graffiti-covered border fence.
Six US companies built the mockups and they are being assessed for their anti-breaching capabilities.
Each prototype cost more than $300,000 and, according to some estimates, the complete wall could require an expenditure of up to $20 billion.
Despite Trump's campaign promise to "Build the wall!" Congress has yet to approve the necessary funding for the project amid skepticism and Democratic opposition.
– 'You can get over it' –
The eight hulking prototypes can be seen from across the border in Tijuana, where residents are not overly impressed or fond of the real estate tycoon who launched his presidential campaign calling Mexicans "criminals" and "rapists."
Pointing to one of the structures, Eladio Sanchez, 30, admitted that it might slow him down but "you can get over it anyway."
"It's just a little more complicated," said Sanchez, who told AFP he has sneaked into the United States on several occasions.
"But people are always looking for a way to get over — out of necessity, not because we want to," he said.
The border with Mexico stretches nearly 2,000 miles (3,200 kilometers) and about a third of it already has some type of barrier or wall.
Trump's insistence that Mexico pay for the wall has soured relations and Mexican President Enrique Pena Nieto recently canceled plans to visit Washington amid continuing disagreement.
There is also plenty of opposition to Trump's wall — and other policies — on the US side of the border in this heavily Democratic state where Hillary Clinton won more than 61 percent of the vote.
Attorney General Jeff Sessions has accused the state of deliberately obstructing enforcement of federal law by offering sanctuary to undocumented immigrants.
Governor Jerry Brown said the Trump administration "is basically going to war" against his state after the Justice Department sued to block its sanctuary laws.
Trump, for his part, said "sanctuary jurisdictions are the best friend of smugglers, gang members, drug dealers, human traffickers, killers and other violent offenders."
"The state of California is sheltering dangerous criminals in a brazen and lawless attack on our constitutional system of government​," the president said in his weekly address.
Trump's visit to California is expected to be marked by protests both for and against the president.
The largest rally expected Tuesday is at a church in San Ysidro, from where you can see the border.
Demonstrators plan to erect a large sign calling on Trump to "build bridges, not walls."
But a pro-Trump rally in favor of the wall project is also scheduled.
Trump is expected to wrap up his visit with an evening of fundraising in Beverly Hills to raise money for his 2020 re-election campaign.
AFP
The post Trump to inspect border wall prototypes on California trip appeared first on Vanguard News.
Tags 2014
You may also like...