Security Challenges : Gov. Okowa call for Prayers for the country
Delta State Governor, Senator Dr. Ifeanyi Okowa has charged religious leaders to earnestly pray for Peace in the nation during this challenging times, stating that God alone has the solution to the various security challenges threaten the nation.
Speaking on Friday  in Asaba when he received on courtesy visit  Bishop Chris Kpakpovwe  and members of the "Our Daily Manna" group, Senator Okowa said that Nigeria as a nation in recent time has been faced with various  security challenges especially the herdsmen menace.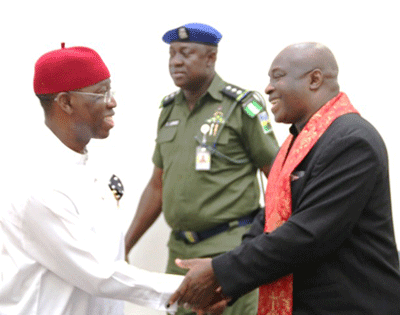 According to him "Nigeria as a nation is challenged and needs prayers, l believe that the only solution we need will come from God and we need to fervently pray to God, l believe that God will help us find solution to the herdsmen crisis which is worse than Boko Haram. We call on all Christian leaders to continue to pray for this country,   adding that "there is a lot that our Christian leaders should pray about for this nation, so that we can have peace."
While commending Bishop Kpakpowe for organizing the yearly Daily Manna Programme in Delta State, Governor Okowa asserted that the state has enjoyed relative peace and prosperity because of the prayers and supplications of the clergy and Deltans.
"I believe that this programme have blessed this state and that the prayers of various men of God have positively imparted on this state,  we will work together, developed together and live in peace as Deltans."
Earlier, Bishop Kpakpowe informed Governor Okowa that they were in the state for this year's Daily Manna Programme and thanked him for his support for the programme and the propagation of the gospel.
He  commended the governor for his people oriented developmental programmes, stressing "I am proud of you and the government of the state, everywhere l go people are talking about the good work you are doing in the state, this is commendable and l thank God for your administration."
The post Security Challenges : Gov. Okowa call for Prayers for the country appeared first on Vanguard News.
Tags 2014
You may also like...