Sasa Hausa market: Sitting on a keg of gunpowder
By Ola Ajayi
IBADAN — Unless Governor Abiola Ajimobi of Oyo State and the State Commissioner of Police, CP Abiodun Odude, wade into the rivalry between members of Sasa Market Traders Association and the leader of Hausa Community in Sasa area of Ibadan, the Oyo State capital, crisis of unimaginable proportions could break out following a struggle by both sides to control the popular market.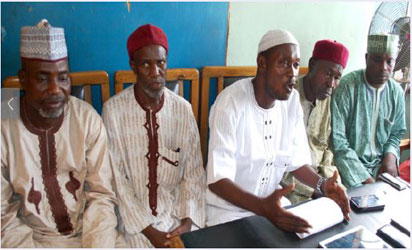 The market is a beehive of commercial activities all days of the week as goods coming from the northern part of the country are off-loaded and sold to ready buyers. Already, tension is brewing on a daily basis between the traders and the Hausa leader. When Vanguard visited the market on Monday, it was a ghost of itself. Only clusters of groups were seen discussing in low tones.
At the residence of the leader of Hausa Community, Alhaji Haruna Maiyasin, there were armed policemen keeping vigil to ensure there was no breach of law and order. Also, some plain clothed security men were positioned in every part of the residence.
Vanguard gathered that trouble started when some  traders came together to ask that the market and the traders be freed from alleged oppressive rule by the Hausa leader. According to some of the traders, Alhaji Maiyasin and his children have brought untold hardship to the people due to a large scale extortion. After the local government collected its dues, the Hausa leader would unleash terror on any trader who refuses to part with 'their money'.
However, some people stood up against the tyranny and stopped paying to him but to the council in charge of the market. Since that time, it was gathered that the traders did not know peace as several security agents pay constant visits to members of traders' association, to harass, intimidate or even detain them for no just cause.
The crisis which started in 2011 when the traders said they told the king to refrain from undue interference in the affairs of the market has now reached a crescendo.
Undue interference
This prompted the leadership of the market led by their Chief Imam, Alhaji Yahya Abubakar, and others like Alhaji Abubakar Kamai, BoT member, Alhaji Kuranga Ismail Bamidele, General Secretary of the traders' association and Alhaji Ali Na Mallam Sidi, BoT member, to protest in the city.
They called on the Oyo State Governor, Senator Abiola Ajimobi, Inspector General of Police, Abubakar Idris, and President Muhammadu Buhari to come to their aid and deliver them from alleged oppression by the leader.
According to them, "Trouble started 20 years ago. Alhaji Maiyasin had been in control of the market for the past 30 years. When we traders decided to control our own affairs, we set up a committee to steer the ship of the market and this of course, pitched us against him. We registered the association with the Corporate Affairs Commission and also with Oyo State. In 2011, he arrested 11 traders and others. They spent some days in police custody. When the then CP knew about it, he ordered that all those in custody should be freed.
"Another time, he wrote a petition against us that we wanted to kill him and his children. We were arrested by the DSS. But after their investigations, they found out it was not true and they released us without charging us to court. All that Alhaji Maiyasin wants is to control all financial activities of the market with his children. When he found out that the security men here in Oyo State would not do his bidding, he connived with some security men at Alagbon, the headquarters of Police Zone 2 in Lagos. For the past two weeks now, we have not been able to sleep in our houses.
"He again framed us up telling them that we are members of Boko Haram. We were arrested again and spent about three days in custody before they released us. There is no security agency in this state that doesn't know about the case. The intervention by a local government caretaker chairman temporarily checked his excesses. But, immediately he left office, he started victimizing us again.
"Seriki N Sasa has been boasting that he knows the governor, the IGP and that President Buhari is his son. But we always tell him all these leaders are our leaders not only his alone. Please, tell the relevant authority to check the unbecoming attitude of Alhaji Maiyasin."
Maiyasin denies allegations
When Vanguard called the Hausa leader, he confirmed that there is crisis between the traders and his children. He said he was the one that established the market, got some labourers to clear it and also brought the people who, today, are fighting him over the market.
Maiyasin said, "I brought them there. I got the space and prepared it for commercial activities. They gave me the market and I got a caterpillar to work on it. Then, I brought these people to the market. Now, they don't want me or my children. Is it possible? How can you tell someone who established a market that you don't want to see him there again. They are the problem. They don't want any law and order. They also don't want to see the Baale (community leader) who owns the land. They took me to four courts, but the courts struck out their cases. So, what they are saying is a blatant lie."
The post Sasa Hausa market: Sitting on a keg of gunpowder appeared first on Vanguard News.
Tags 2014
You may also like...