Release Elzakzaky now, Falana writes Buhari
By Prince Okafor
Femi Falana, a Senior Advocate of Nigeria (SAN), has called on President Muhammadu Buhari, to allow Sheik Elzakzaky and his wife, Hajia Zainab Elzakzaky to regain their fundamental right to personal liberty granted by the court.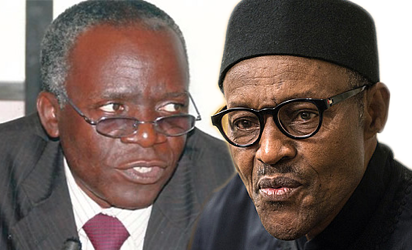 Falana letter came on the backdrop of the Abuja Judicial Division of the Federal High Court, order on December 2, 2016, for the release of Elzakzaky and his wife, from the illegal custody of the State Security Service.
The court also awarded them reparation of N50 million and directed the Federal Government to provide a temporary accommodation for the couple since it was established that the Nigerian Army and the Kaduna State government had demolished their private residence at Zaria in Kaduna State.
Falana stated in his letter to the president titled: 'Fresh Request For the Release of Sheik Ibraheem Elzakzaky and Hajia Zainab Elzakzaky' that, "It may interest Your Excellency to know that the Judicial Commission of Enquiry set up by the Kaduna State government to investigate the remote and immediate causes of the violent attack unleashed on the Shiites in December 2015 and did not recommend the indefinite incarceration or prosecution of Sheik Elzakzaky and his wife for any criminal offence whatsoever.
"Therefore, they should be allowed to regain their fundamental rights to personal liberty guaranted by Section 35 of the Constitution and Article 6 of the African Charter on Human and People Rights (Ratification and Enforcement) Act (CAP A10) Laws of the Federation of Nigeria, 2004.
"Having been illegally detained without trial by the defunct Babangida junta and having recently travelled to the United Kingdom for medical treatment we have no doubt that Your Excellency will appreciate the plight of our clients."
The post Release Elzakzaky now, Falana writes Buhari appeared first on Vanguard News.
Tags 2014
You may also like...