Politicians won't hijack Ondo amnesty programme —Akeredolu
By Dayo Johnson
AKURE—GOVERNOR Rotimi Akeredolu of Ondo state,yesterday, assured repentant militants in the state that the amnesty programme designed for them to drop arms in the state would not be hijacked by politicians, saying the programme would not be politicised.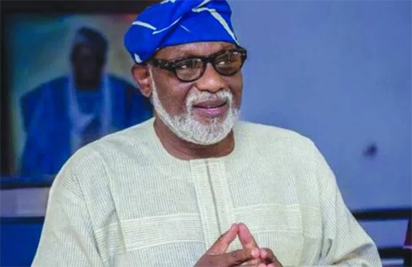 Akeredolu, who stated this during the official proclamation of Amnesty for Armed youths in the Niger Delta area of Ondo state, said the programme failed in the past due to the influence of some stakeholders, which portends danger for the scheme to restore peace in the area.
According to the governor,  there is no development in an atmosphere where there is no peace, noting that the federal government has put all machineries in place to ensure peace in all the Niger Delta region areas of the country.
Akeredolu sought the cooperation of all stakeholders, especially community leaders in the riverine area of the state to ensure that peace reigns in their domain and to ensure that the youths drop their weapons.
He said " It is our collective responsibility to ensure these Armed youth drop their weapons to embrace peace. The programme is to turn their lives around.
"We will be able to create job and other infrastructural facilities in a peaceful atmosphere, while foreign and local investors will be willing to come to our state"
He disclosed that the five centers had been created across the riverine communities for the submission of arms, which included, Igbokoda, Ajakpa, Arogbo,  Ugbonla and Igbekebo, while urging the Armed youths to submit their arms within the next 21 days.
He assured them none of the would be harassed or arrested by security agencies while laying down the arms.
He said "this submission will be monitored by security agents and I want you all to take advantage of this opportunity to drop your arms. Lets drop the arms and be hopeful, hopeful for a better life and better life is coming to all of you"
The Chairman of the Amnesty programme in the state,  and the state Deputy governor, Hon. Agboola Ajayi, also noted the activities of the armed youths have in the last few years hampered harmony, peaceful coexistence as well as a friendly business environment.
Ajayi traced the genesis of arms proliferation in the Niger Delta area of the state to the crisis between Ilaje/Ijaw crisis in the late 1990s.
He said the government of that time in conjunction with community leaders of both sides succeeded in ending the crisis between the two warring groups, but added that the level of arms flow could not be controlled.
According to the deputy governor, the failure of the then government to control the level of arms flow created rooms dangerous dimension.
He said: "Armed youths who had participated in the unfortunate crisis gradually turned themselves to ethnic war veterans whose activities suddenly became unbearable even for communities."
The post Politicians won't hijack Ondo amnesty programme —Akeredolu appeared first on Vanguard News.
Tags 2014
You may also like...