Police, other security agencies hold joint counter-terrorism training
By Anayo Okoli
UMUAHIA—IN an effort to sharpen their counter-terrorism skills, the Nigeria Police in partnership with the British High Commission recently had a five-day training programme for chief superintendent of police, deputy superintendent of police and their counterparts in sister security agencies in Zone 9 Police Command, Umuahia.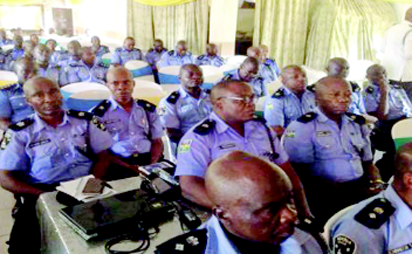 In his address at the opening ceremony, the Inspector-General of Police, IGP, Mr. Ibrahim Idris, explained that the training was necessary, saying that it would enable them to effectively tackle the problem of terrorism. The IGP, represented by the Assistant Inspector-General of Police in charge of Zone 9, Mr. Hosea Karma, said that the participants would be exposed to training on counter- terrorism and crisis management.
Karma explained that the inclusion of sister agencies such as fire service, Civil Defence, NEMA, Road Safety Corps, in the training among others, underscored the importance of the course and urged them to take the programme serious.
"I am very happy that Fire Service and Road Safety Corps are participating in the course, because in the case of fire while the FRSC would be active in clearing the debris and controlling traffic, the fire service would be on hand to ensure there is no fire outbreak, as the Police would be there to ensure security of lives and property by preventing unauthorised persons access to the scene and guard against looting.
"This is the same case with accidents where members of the Road Safety would be around to clear the accident debris, while the Police will be around to ensure that there is free flow of traffic," the IGP said.
Stressing the importance of the training, the Police boss said: "When properly trained, the participants will be able to do well when accidents occur. The training will also enable them to know their role when such incidences occur; you therefore need to take full advantage of the training to enable you save lives and property of people. There are bound to be incidents where human beings live and security agents are the first callers. We therefore need to be proactive in crime fighting and challenge of incidents."
He said the involvement of the sister agencies became necessary because they work together with the Police in accidents, natural and air disasters, saying that any wrong action in any incident would have far reaching consequences.
The post Police, other security agencies hold joint counter-terrorism training appeared first on Vanguard News.
Tags 2014
You may also like...