Nigeria's rising debt profile is worrisome- Prof Kingsley Moghalu
Foremost political economist, lawyer and former United Nations official, Professor Kingsley Moghalu has described Nigeria's rising debt burden has worrisome, especially when history shows that reliance on foreign loans have failed to contribute to the economic growth and development of the country.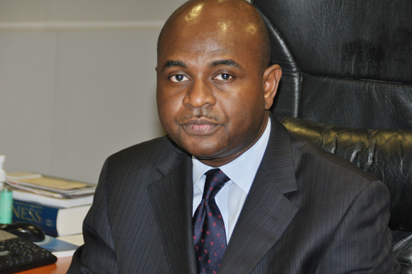 In recent years, the national debt has risen to over 19 trillion naira,with two-thirds of Nigeria's tax revenue presently applied to servicing debt annually, even as the Debt Management Office is expected to borrow about 500 billion naira before 31 December, 2017 to fund shortfalls in revenue projections in this year's budget.
Speaking at an event, the former Deputy Governor of the Central Bank of Nigeria advocated for a more efficient, effective and innovative fiscal management of Nigeria's needs, arguing thatstate and federal governments should generate revenue internally.
"The federal government recently requested the approval of a 5.5 billion dollar foreign loan from the National Assembly, but when you consider that more than sixty percent of revenues earned in Nigeria already goes into debt servicing, the country is clearly moving into dangerous territory", he said.
Emphasizing the importance of policy readjustments in Nigeria, Professor Moghalu stated that when countries continue to borrow, there is very little left to fund services and development, which in turn affects important social infrastructure such as health and education.
"Nigerian governments consistently claim to be focused a lot of physical infrastructure, but they fail to deliver excellently in terms of the quality of such projects. The percentage of Nigeria's spending on development is one of the lowest in Africa. But that does not mean we have to increase taxes. We can stimulate the economy and build infrastructure by improving tax collection. All of these can be achieved when there's good leadership and citizen accountability", added Professor Moghalu.
Addressing the argument that Nigeria's Debt-to-Gross Domestic Product remains low at 19 percent which makes it safer to borrow more, the financial expert called it shallow thinking. He said that for a developing country like Nigeria, what matters is the debt service- to-revenue ratio, which what should concern every Nigeria.
This also builds on the recent red flag raised by the International Monetary Fund (IMF), which reiterated that debt servicing costs were becoming a burden on Nigeria, as the international body pointed out that the debt service costs gulped about 66 percent of government's revenue in 2017.
The post Nigeria's rising debt profile is worrisome- Prof Kingsley Moghalu appeared first on Vanguard News.
Tags 2014
You may also like...