Misau: IGP appears before Senate, says he he has nothing to hide
By Henry Umoru & Ikechukwu Nnochiri
ABUJA— The Inspector-General of Police, Ibrahim Idris, yesterday appeared before the Senate Adhoc Committee to defend himself against allegation levelled against him by Chairman of Senate Committee on Navy, Senator Isah Hamman Misau.
Misau had accused the IGP of corruption, nepotism, misuse of office, misappropriation of funds, illegal promotions and postings of senior officers.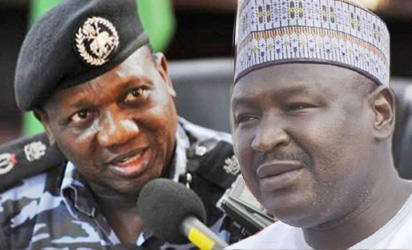 A High Court of the Federal Capital Territory, had earlier yesterday, rejected a motion ex-parte the IGP filed to stop the Senate from probing the allegations against him.
The IGP, who appeared in company of his lawyer, Alex Iziyon, SAN, said he appeared before the committee because of the respect he had for the Senate as an institution, saying he had nothing to hide.
He, however, engaged the Senate in verbal war regarding the legality or otherwise of the probe of corruption allegations against him.
The Senate Ad-hoc Committee investigating IGP, the Police, and Police Service Commission, PSC, is chaired by the Deputy Chief Whip of the Senate, Senator Francis Alimikhena, APC, Edo North.
The IGP, who noted that since the case for which the investigation was ordered was already in court, it would be subjudice for him to respond to any queries from lawmakers, stressing that he decided to appear before the committee because of the need to comply with the constitutional provisions, which mandated him to honour invitations from parliament.
At this point, the committee ruled him out of order, saying the judiciary lacked the power to stop the Senate from performing its constitutional duties.
Speaking further, the IGP said: "I will not make any oral comment or answer any question in respect of the allegations in view of the various civil and criminal cases pending in the law courts, especially when the senator has already been arraigned in court in respect of this matter."
The post Misau: IGP appears before Senate, says he he has nothing to hide appeared first on Vanguard News.
Tags 2014
You may also like...