Madu steps out with 'Kampe'
By Juliet Ebirim
HE's not new in the music industry but with the release of his new single 'Kampe', Madu is geared to take the music industry by storm. The young artiste was officially presented to the media by his management company Young Nation Ltd and Heritage Live Entertainment.
An indigene of Anambra State, Madu started his music career in 2010. Back then, he was known as Rexy Brown. His passion for music was so intense that he suspended his academics just to learn the intricacies of Nigeria's music terrain. Although, mainly self-taught, Madu is highly skilled in the production and mixing of music. He also plays different music instruments.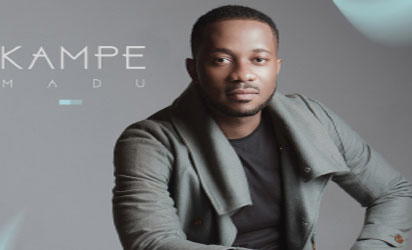 "Music is something I cannot do without. I have intense passion for it. Kampe celebrates beauty in all shades. It conveys a message that is universal and emphatic on loving oneself irrespective of shortcomings." he said in a chat with WG.
However, making good music requires good management as well. Madu is the first musician to be signed to Young Nation Ltd, a management company founded by Kamal Ajiboye, Nelson Ononiwu and prolific media personality, Olisa Adibua. The three personalities have vast knowledge of the entertainment industry having worked in different levels of the media and showbiz industry over the years. This was evident in the rebranding process of the artiste who dropped his former moniker and adopted his surname as his stage name.
According to Olisa Adibua, changing his name was very important to the brand's identity. "Madu is a gifted young guy. His journey so far has been good but now we are taking it to a whole new level. We believe that the connection between Young Nation and Heritage Live Entertainment is the catalyst that will propel Madu to the next level.
"The 28 year-old singer's new release 'Kampe' is a fusion of Afro pop and R&B. It is a love song that boasts of three languages; Efik, English and Pidgin English. The song is produced by DJ Coublon, while the video is directed by Clarence Peters.
The post Madu steps out with 'Kampe' appeared first on Vanguard News.
Tags 2014
You may also like...