Lawmakers condemn allegation against Ambode over list of council's EXCO
By Olassunkanmi Akoni
Members of the Lagos State House of Assembly, have condemned in strong term, the allegation against Governor Akinwunmi Ambode over imposition of Local Government Executive Council list, describing the statement as "malicious and misleading."
The allegation went viral on social media following an earlier statement released by the state House Assembly to commissioner.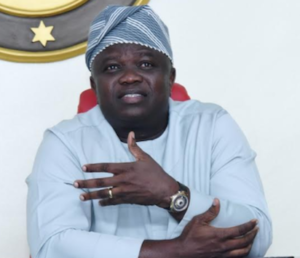 Hon. Sanai Agunbiade, the Majority Leader of the House, in a statement over the issue, maintained that the letter from assembly had been mis-interpreted by members of the public, particularly, in the media.
According to Agunbiade, " The attention of the Lagos State House Of Assembly has been drawn to  the above captioned mischief currently making the rounds especially in the print and social media.
"The sensational falsehood stems from the calculated, subjective and tainted misinterpretation and misrepresentation of a statement issued by the House of Assembly dated 3rd Nov 2017 with reference No LSHA/FAD/O/155/82 directed to the state Commissioner for Local Government and Community Affairs, Hon Muslim Folami.
"The said letter was solely predicated at guiding the newly positioned Chairmen of councils on the need for appropriate procedure as well as intimating them with the relevant provisions of the operational administrative guidelines which require the approval of the legislative arms of the respective councils to validate appointments into the local government executive committees.
"This was deemed necessary to avoid  unnecessary bickering and unpleasant corollaries that might be the consequences of an abridged process or procedure.
"It is needless to say that the Lagos State House of Assembly has unreserved esteem and regards for the office and person of the Governor and the thoughtful guidance routinely issued was not in any way intended to denigrate, dissipate or disrupt   the processes but rather to enrich, enhance and further establish democratic tenets and institutions by ensuring that the principles of checks and balances are replicated in the renascent Local Government system.
"In the circumstances therefore, the mis-interpretation accorded the harmless action of the House of Assembly is regrettable, unreasonable, misleading, unacceptable and is hereby condemned.
The three arms of Government are clearly separated yet intricately and delicately fused. Consequently, they are inter- regulatory and inter-complimentary .
"These are basic ideologies of democracy that need not be subjected to ludicrous, delusive, derisive or divisive twists."
Moreover, the letter, dated November 3, 2017, addressed to Commissioner Local Government and Community Development, signed by the Clerk of the House of assembly, with the title- Appointment of supervisors to LGAs, LCDAs,–read in parts: "In consonance with the Local Government administrative guidelines, 2011, which empowers the chairman of Local Government Areas/Local Council Development Areas, LCDAs, to appoint supervisors and Special Advisers, i am to inform you you to note the clause in section 10.1 (1) which states that such appointments must be "with the confirmation of the legislative Council."
"Consequently, you are kindly requested ti ensure compliance with the above mentioned provision before the appointed officials are sworn-in."
The post Lawmakers condemn allegation against Ambode over list of council's EXCO appeared first on Vanguard News.
Tags 2014
You may also like...