Delay in budget approval process deepens recession – Osinbajo
By Johnbosco Agbakwuru
ABUJA—VICE  President, Prof. Yemi Osinbajo, yesterday, said delay in the budget approval process was one of the main causes that deepened recession in the country.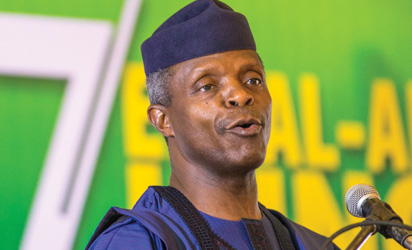 Osinbajo, who spoke at Legislative Economic Summit organised by House of Representatives in Abuja with the theme, "Legislative Framework for Economic Recovery and Sustainable Development," said "the story of the Nigerian recession must be told often, and more importantly, truthfully. There are two reasons: the first is so as to ensure that never again, do we experience the horrors and deprivations of a recession. The second is that we cannot afford another recession, not now or in the future.
"Permit me to quickly retell that story as I understand it, of how we got into a recession. Three reasons: one, we were running an unstable economic structure. Oil alone contributed 70 per cent of budgetary revenues and 90 per cent, perhaps more than that, of our foreign exchange revenues.
"Up to 50-53 per cent of the non-oil sector was dependent on the oil sector. Consequently, the fortunes of up to 60 per cent of the Nigerian economy, rested on this volatile sector. This shaky foundation was masked in the past by high oil prices, but as soon as oil prices fell, the weakness showed.
"The second weakness in our economic structure is that it had mainly been consumption driven with a high propensity to import. Worse still, we were importing food, food that we could grow. Our unsustainable food importation bill at some point, was over N1 trilion, it was particularly damning for the economy as foreign exchange revenues dried up.
"In 2015, oil prices fell to as low as $28 at some point. But worse still, throughout 2016 we lost almost a million barrels a day in oil production due to vandalization and sabotage of oil facilities and pipelines. We lost something in the order of about 60 per cent of our revenues. Yet we could have survived without going into a recession.
"I think Dr. Teriba so ably stated that, we could have survived if we had savings. But we had no savings only debt. As economists would say, and as Dr. Teriba had said, we did not have the fiscal buffers to enable a counter-cyclical approach. In other words, we lacked the savings to see us through the lean times. Why did we lack savings, when so much money was being made? This is the elephant in the room.
Unbridled corruption and waste
"This leads us to the second reason for the recession – corruption. Unbridled corruption and waste. I think it is important for us to emphasize that, so that we do not think that the recession was just something that occurred in a cyclical fashion – just another economic occurrence. No. It was not another economic occurrence, it was unbridled corruption on a scale that was unprecedented anywhere in the world, is what we experienced in Nigeria. It is important that we emphasize it so we don't walk this way again.
"The figures speak for themselves. Between 2013 and 2015 with oil prices averaging up to $110 per barrel, sometimes going to as high as $150, the government of the day somehow contrived to increase national debt from N7.9 trillion to N12.1 trillion while reducing external reserves from $45 billion to $28 billion as of May 2015."
"Of course, we all know that there was very little by the way of investment in infrastructure and capital projects. In fact, in 2015, capital spend was less than 11 per cent.  So, there was very little to show for where this money went."
"I don't want to keep repeating some of the incredible things that happened, a few weeks before the last elections; how large sums of money, a 100billion in cash ostensibly for security. Another $289million in cash was paid out in the same period. No country can survive that kind of unbridled waste and corruption. We must never forget, that corruption is perhaps, the most outrageous cause of our economic decline.
"Aside from barefaced stealing or waste of resources, the inflation of contracts and other procurements ensures that the cost of infrastructure necessary for development will always be unaffordable. So if what we should spend on building a 200km road ends up being spent on a 20 km road, there is no way we are going to make any progress and there is no way we won't end up in some kind of economic decline or the other.
"Today, we can say that despite the 60% or even more reduction in revenues from oil, we are bailing out the States and our capital spend in 2016 was close to N1.3trillion, the highest yet in the country's history. So with more prudent management, it is possible to do more with far less money."
Intractable delays in budget approval process
The Vice President faulted delays in the approval of budget process in the country as well as the long procurement processes, saying that they contributed to the recession.
He said, "Permit me to comment on two of the other major causes for the deepening of the recession.   One is the intractable delays in the budget approval process and two the long procurement processes. If the budget process takes up to 5 months of the financial year and procurement is another 3months we have already ensured that the economy will be at a standstill for most of the year. The truth is that no developing economy can afford the luxury of prolonged executive/legislative wrangling over the budget. Developed economies with strong and independent private sectors may be able to cope, but Nigeria simply cannot.
"Budgetary delay in a situation of national economic emergency, and the hardship encountered by so many, is simply wrong and unacceptable. Neither the executive nor the legislature can excuse itself. It is wrong for us to hold up the budget for that long.   The delays of course, will ensure that money will not flow into the economy, and that capital projects will not be done.
"Let us go back to the 1st reason why we must remind ourselves about the recession story. It is so that we do not go down this road again, how do we make sure we don't?
"It was clear to this government, that the solution to getting Nigeria out of recession, requires focused and determined leadership to take immediate and long-term measures to tackle our weak economic foundations.   This found expression is in the Economic Recovery and Growth Plan of Government.
"The recovery intended in the Plan was truly to take the economy out of recession, but in addition, it was to stem the slide in growth that occurred since 2014.   We accordingly prioritized, actions to restore oil production at home through a New Vision for the Niger Delta, while working with our international partners to stabilize oil prices.
"The results are clear, with oil production now at 2million barrels per day (including condensates which are not part of the OPEC quota) and our external reserves now stand at about $34billion.
"A second plank of immediate actions taken was ensuring that consumption and investment did not contract any further.   The Federal Government did paid its own salary obligations and extended support to the States to pay the backlog of salaries.
"In addition our social intervention programmes put money in the hands of Nigerians through N-Power jobs for young graduates, about 200,000 have been engaged and another 300,000 are in the pipeline for engagement, microcredit loans for market women and artisans, and indirectly, by paying for meals for primary school children through our home grown school feeding programme.
"The capital spend of about N1.3 trillion in the 2016 budget was unprecedented, but it was important in ensuring that money would go into the economy. This capital spend had the dual purpose, one – boosting growth through government spending but also to provide infrastructure to underpin what we hope would be a fast-growing, dynamic and diversified economy.
"Moreover promoted the productive sectors of agriculture, manufacturing and solid minerals.   It is well known that the agricultural sector continued to grow even during the recession due to the emphasis that we placed on sector through schemes like the Anchor Borrowers Programme and the Presidential Initiative on Fertilizer. I will return to this point briefly.
"Industry returned to positive growth in the second quarter of this year after nine successive quarters of decline since 2014.   This was of course due to the increased availability of foreign exchange for imports of intermediate goods and raw materials, more spirited efforts being made by local industries to source for raw materials, and also less onerous business conditions.
"Indeed, our efforts to create a more business friendly environment yielded fruit only a few days ago when we exceeded our target of moving up on the World Bank's ease of doing business rankings. We moved up 24 places instead of our target of 20 and we were named one of the 10 best reforming economies in the world.
"It is important to emphasize that the Presidential Enabling Business Environment Council is a collaboration between the Executive, legislature and the private sector.
The post Delay in budget approval process deepens recession – Osinbajo appeared first on Vanguard News.
Tags 2014
You may also like...