China donates three buildings, teaching, learning materials to a Lagos
Chinese Consulate in Lagos over the weekend donates three buildings made up of a block of five classrooms, school hall and school offices to Ise Primary School, Ise village, near free trade zone, in Ibeju-Lekki Local government area of Lagos State.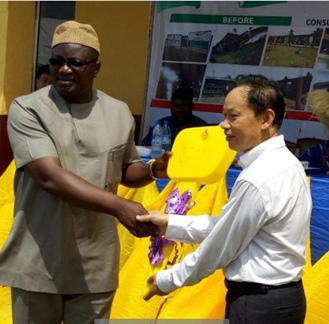 This Corporate Responsibility Service was conducted under the People to People Friendship Action of the Chinese government as an outreach for domiciled Chinese companies to contribute to their host communities wherever they are in Africa.
On the official commissioning of the projects, Mr. Chao Xiaoliang the Consul General of the Peoples Republic of China in Lagos stressed the strong commitment Chinese government placed on the People to People Friendship Action.
Mr. Chao Xiaoliang also informed that ten Chinese companies sponsored the projects and many other companies will do more.
According to Mr. Chao Xiaoliang " The classrooms rehabilitation, we have finished in your school is one of the four China-Africa People-to-people Friendship Action we carried out this year. The projects are the important part of China-Nigeria cooperations.  I want to say today's project is another testimony for the amity of Chinese toNigerian. It is done not by one company but finished in the joint effort of several Chinese Companies. On this occasion, I'd like to introduce some of them.
ChinaIndustrial and Commercial Enterprises Association, which is the coordinator of the projects, successfully organizes other Chinese companies to participate in this projects. Goodwill Ceramic, Homate System Company Ltd, LH Stainless Tank, Seven Stars Tissue, Kaway Shoe factory, Green NI Agriculture Resources Ltd, Future Star Socks, Yiwu Lao Fang Trade Co. and China donates all the building materials, whiteboards, desks, and chairs. These Chinese companies, which are not big, work very hard and try to save every Kobo in their operation. But they do their best to help you, and their donation shows the friendship and amity of Chinese people to Nigeria people. 
China stands ready to work together with Nigeria to deepen mutually beneficial cooperation in such fields as agriculture and fisheries, petroleum refining, mineral exploration, electromechanical system, light industry, textile industry, and processing and manufacturing, so as to achieve win-win cooperation and common development. China is willing to preferentially support Nigeria in breaking three bottlenecks that hamper Nigeria's industrialization."
The handover ceremony was attended by HRM Oba Abdul Ganiu Adebowale Adegbesan (Onise of Ise Land) and Dr. Ganiyu Oluremi Sooeyin Chairman of ISUBEB.
The post China donates three buildings, teaching, learning materials to a Lagos appeared first on Vanguard News.
Tags 2014
You may also like...