Bishop Jacob Udobang, the visionary 'world pope'
By Jacob Udobang
TODAY, we remember late Bishop Jacob Brown Udobang who was born into a humble Christian home of late Mr and Mrs Brown Udobang, in the remote and impoverished oil community of Ikot Ekpang, Odoro Ikot Clan, Ikpa Ibom in Mkpat Enin Local Government Area of Akwa Ibom State. From the chronicles of his birth, he was predestined to be a prophet from his mother's womb as his childhood was replete with outstanding and uncommon traits even at the schools he attended. He was always sickly particularly during examination periods, yet always emerging the best among his contemporaries in academic activities.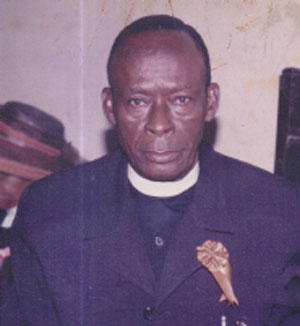 While narrating the life history of this great man from the little despised village of Ikot Ekpang, one of his contemporaries and age mate Elder Okon Worrey said, "Jacob didn't really use to attend classes because of his sickly nature, but during exams, he always led the class."
Bishop Udobang himself said the exam questions were usually revealed to him in dreams; and that was why he always led in class/academic activities. This rare talent was attributed partly to his early engagement in prophetic assignment and God's divine guidance and direction, as Bishop Udobang's watchwords in life were Christ is my Power! One with God is Majority!
Prophetic exploits
He co-founded House of Prayer for all Nations with his mother, whom he joined on October 15, 2014. Many miracles were wrought in the hands of the duo! Story has it that, in one of his prophetic exploits, he went into the evil forest in the village to pray for three nights dislodging and turning things around. He physically 'caught' witches and wizards', reason he was usually revered and feared in the community. Another of his spiritual exploits, was rescuing of a man whose spirit was held in strong captivity by the forces of darkness. The story of his spiritual exploit is still being told in the community today.
'World Pope' as he was fondly called by his contemporaries had a vision where he was commanded to hand over his ministry to Bishop John Etefia, late president and founder of Mount Zion Light House Full Gospel Church Inc. In 1966 without hesitation and in obedience to God's command, he joined Mt. Zion Church as pastor and his first station was Mt Zion (L.F.G.) Church, Ukpana Assembly in what is today Onna Local Government Area of Akwa Ibom State. From Ukpana, he traversed the length and breadth of Nigeria, planting churches, winning souls for Christ and performing signs and wonders in fulfillment of God's promise to Christians. During the civil war, from 1966 to 1969, he was posted to Kano State where he established Sabon Gari Assembly. He narrowly escaped death during the civil war on several occasions.
In recognition of his outstanding performance and popularity, he was elected trustee of the Church in 1992 alongside late Bishop Hogan (who was an elder in his Assembly), Bishop N.D Ayakndue, currently and vice president of Mount Zion Church Inc and later was enthroned as bishop. He was a man of trust, forth-right, fearless and reformer. In 1992, he challenged the introduction of strange doctrines in the Church tagged, "Lets Return to Bethel" which was principally about going back to the basics or doctrines laid down by the founding fathers of the church.
This was considered as affront to constituted authority, and he was later ex-communicated from the Church. Having believed in justice and engaged the services of Chief Afe Babalola (SAN), to challenge his alleged ex-communication at the Federal High Court, Ibadan, Oyo State in 1993 when he was the Superintendent of Ibadan Diocese between 1992 – 2009.
Unfortunately, Bishop Akpabio died in the course of the matter and the matter was finally resolved amicably under the presidency of Bishop Paul Augustine. He was re-instated as trustee and bishop of the church. While trying to settle down to assume duties, he was faced with another legal tussle orchestrated by the authority at the Federal High Court, Calabar. He won the matter again, and was appointed vice president of Mount Zion (LFG) Church, the position he held until death. But before he passed on, he used the position to withdraw all outstanding litigations from courts and brought back members together in one fold.
He did not serve the Church alone, but also contributed to community development where he single handedly brought the modern market built by the European Union to Ikot Ekpang, and collaborated with others to champion the NDDC road project. He had assisted several indigenes of his community to secure employment. As we remember his good works today, we pray God to imbue us with the wisdom, tenacity and courage to sustain his virtues.
Udobang Esq, is an Abuja based legal practitioner
The post Bishop Jacob Udobang, the visionary 'world pope' appeared first on Vanguard News.
Tags 2014
You may also like...