ANAMBRA: Labelling Nwoye a cultist is unfair — Dr. Ekwueme
Dr. Peter Ekwueme, is secretary of the Nigerian Medical Association, NMA, in Enugu State. He is a contemporary of Dr. Tony Nwoye, the governorship candidate of the All Progressives Congress, APC, in the Anambra State Governorship election. In this interview, he gives his perspectives on the candidate, and related issues concerning the Anambra State governorship election. Excerpts:
By Dapo Akinrefon
HOW well do you know the APC candidate given the articles you have been publishing about him?
Dr. Tony Nwoye is someone I have known forever. Our paths crossed way back in our pre university days. He was in Metropolitan College Onitsha while I was in Christ the king College (CKC). Being a very intelligent and socially active person, Tony was a constant feature in the inter-school contests. He led his school in quiz competitions, debates, JET club contests and the likes. I led mine in same events. So we started off as adversaries really but had mutual respect for each other.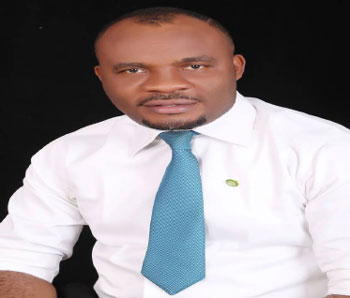 We got into the same College of Medicine UNN, played our parts in the Medical Students Association of our alma matter UNMSA, SUG and the likes. Because of his natural gift for leadership, man management and organization, Tony became an instant hit, dusted his contemporaries and those that came even before him.
What was it like being a medical student and being involved in students' politics?
It is the toughest life to live. Your classmates view you with some suspicion as someone who does not know why he is in school. Your teachers are sure you shouldn't have been in that field of study. But to the credit of characters like Tony Nwoye, he had the conviction and passion to pursue what was clear in his mind was his life purpose. Some of us were not as tenacious as he was with it. But looking back at what he has achieved and the impact he's made in his society, there can be no doubt that he made the 'rightest' possible choice as regard his path.
So, can a medical doctor be a good governor?
The people of his constituency can best answer that question. He has represented them in the past two years and you can hear them say that they have never had it so good. It is not surprising and you should not forget that he represents the governor's in the House of Representatives. Despite the fact that the governor was in office, his people rejected his APGA candidate because of Nwoye and that tells you they saw something in him.
Given his emergence as a student's union leader, is it true that he was a cultist as some political rivals have alleged?
Nothing can be further from the truth. You see when political opponents have nothing to say, they resort to baseless propaganda and cheap blackmails.
Baseless propaganda
Tony, all through his stay in school, never had any issue with the security department of the school. In our days, you cannot contest any election in school if you are reckoned a cultist. In fact such charge was the easiest way for the school authorities to get back at troublesome student leaders.
It speaks so much about how far removed from cultism Tony was that the school authorities could not even label him with that. I mean that would have been such an easy way of stopping his participation in SUG politics. But they just couldn't because the young man was so clean of such. It is a fact that he has never been accused of cultism while there. He has never been charged for that anywhere in his time. Any of his contemporaries in school, who is honest, can attest to this.
What role did he play in the curbing of cultism in the UNN?
It is one of the great ironies of life that what Dr. Tony Nwoye risked his life combating is what people who have no fear of God are accusing him of. Tony both as an SUG student leader and NANS president fought tenaciously against the cultism menace. He confronted it so head on that most cultists in UNN and UNEC had to publicly come and denounce their membership of the various cults so as to escape the onslaught he used the instrumentality of his office to bring to bear on them. He engaged the security agencies in this.
Do you believe he would do well as governor of Anambra State?
I have no doubt whatsoever that Anambra in Dr Tony Nwoye's hands will experience its best run of governance ever. Tony is someone who prepared himself for leadership. He is an excellent manager and knows how to distill from an assemblage of great talents the very best for the good of the society. More than any other person in this race, he possesses the best resume as far leadership is concerned.
What expectations do you have of him as governor?
I urge him to remain true to his person and his deals as he had been in the myriads of positions he had served in the past. He should remember that it is his past performance that keeps making way for him to soar higher and higher.
The post ANAMBRA: Labelling Nwoye a cultist is unfair — Dr. Ekwueme appeared first on Vanguard News.
Tags 2014
You may also like...