Anambra election: Nwoye welcomes Nimo's endorsement
AWKA—The  All Progressives Congress, APC governorship candidate in Anambra, Dr Tony Nwoye has welcomed the endorsement of his aspiration by the Nimo community in Njikoka Local government Area of the state, promising to support the people in harnessing their potentials in commerce and industry.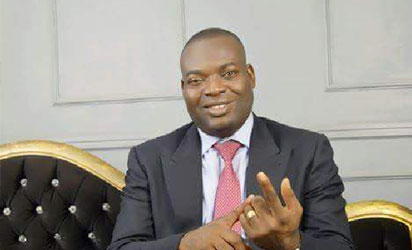 Political and business stakeholders from the community had earlier in the week at a gathering in the residence of Justice Anthony Iguh, a retired jurist of the Supreme Court endorsed Dr. Nwoye's aspiration on the claim that he is the best qualified of the major candidates to represent the interest of the community and the state.
Among those at the gathering were  the President General of Nimo Community, Hon. Chief Dr. Frankanthony Igboka; Chief Matthew Omeokachie (1st Vice-President of Nimo Town Union); Hon. Chief George Ibezimako Ozodinobi; Dr. Nicholas Igwe; Nduka Aguofia Esq; Chief Emma Ndubuisi ; Ozor Paul Ezenwa; Chief Fide Nwabunie; Hon. Tony Aniedobe (Immediate past Onitsha North LG Legislative Leader); and Hon. Sir. Toby  Okwuoya. .Also present were defectors from APGA including chieftains of the party who welcomed Dr. Nwoye and his running mate, Dozie Ikefife Jnr.
Welcoming the endorsement, Dr. Nwoye in a statement issued by his spokesman, Nonso Madu said:
"It is a pleasure to add the support of the Nimo people to the groundswell of support for a new direction in the pattern of government in Anambra State.
"The hardworking Nimo people like many other communities in Anambra have been seriously affected by the dilapidation of infrastructure and the absence of positive governance in Anambra ." regime. .
The post Anambra election: Nwoye welcomes Nimo's endorsement appeared first on Vanguard News.
Tags 2014
You may also like...