Anambra 2017: Are The Odds Really In Gov. Obiano Favour?
With barely 8 days to the November 18, 2017 when Anambra decide their next governor, one can arithmetically add 2 to 2 to get four. Specifically, one can, all things being equal predict the outcome of the governorship election.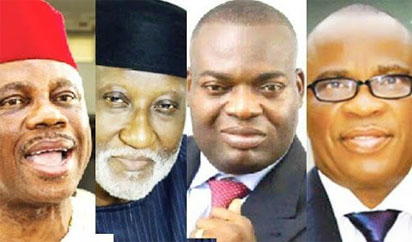 How many parties are presenting candidates for the election? The Independent National Electoral Commission, INEC says 37 parties, and 37 candidates. But from the ongoing frenzied campaign, only six parties and candidates are going to slug it out at the polls, namely, the incumbent, Governor Willie Obiano of APGA; Hon Tony Nwoye of APC and Oseloka Obaze of PDP.
Also struggling to keep pace with the above trio includes Osita Chidoka of UPP and Godwin Ezeemo of PPA.
What factors would play significant roles in the election? Zoning ranks high on the list of political analysts. And the three major contenders in the election – APGA, APC and PDP recognising this fact, ensured that the zone produced their candidates.
In their permutation, political analysts play up zoning in favour of Gov Obiano as other Senatorial Districts, perhaps the South more eagerly, would as a matter of expediency support him to govern for only four years so they can take their turn which they argue has been outstanding since 2003. Indeed, the Obaze think-tank fully aware of this fact is promising to do only one term of four years, perhaps in a desperate bid to win their trust. But of course nobody can take that promise to the bank.
The trailing duo of Chidoka, UPP and Ezeemo, PPA are respectively from the central and South Senatorial districts. Expectedly, the zoning factor further dims Chidoka's chances.
Between the three Candidates from the North, who carries the day? Nwoye is likely to square it out with his kinsman, Gov Obiano, but the man Anambrarians hail as 'Akpokuedike Aguleri' would more than make up for any loss he may suffer in his zone with more than enough votes from the South and Central zones. The political titans from these zones our investigation shows are more comfortable with the Obiano administration, and appear unwilling to place any bet on Nwoye.
Another factor which plays high in Obiano's favour is the incumbency factor. At this point, it becomes a redundant question whether or not Obiano has performed excellently. Those who want his seat would go any length to substantiate their argument that he has performed below average.
Maybe a safe position to examine the sides of the argument would be to look back at the 1999-2003 era of former governor, Dr. Chimwoke Mbadinuju. Besides posting a dismal performance in office, Mbadinuju lost control of the political machinery, so from the political overlords and the voting masses, he found no sympathy.
In terms of performance, Obiano may not have earned a distinction, but he is not resting on his oars. As a matter of fact, his N20 million largesse to all the communities in the State is a master stroke that has earned him kudos from the influential Town Union Associations.
In terms of political machinery, Obiano still have the spirit and soul of APGA with him, the bickering in the party notwithstanding. Former governor, Peter Obi had his way with this same spirit and soul of APGA, but it was for him only a vehicle to power. His defection to PDP, therefore may not make the big difference he anticipated. Anambra people were not following him, but Ojukwu, says local political play makers.
For the average Anambra voter, APGA translates into the legacy and spirit of Ikemba Nnewi, Chief Chukwuemeka Odimegwu-Ojukwu, and Obiano would be sure to milk that value for all its worth.
Still on political machinery, chief Victor Umeh, the director a general of Obiano's campaign organization, as then National Chairman of APGA during the Obi era was the Man Friday, who aided him in running rings around his opponents. He remains a big asset to Obiano.
Would Tony Nwoye therefore only rely on the 'Federal Might' to earn his victory? Certainly not! Even if Nwoye had his way with the Federal Might, it might be a repeat of Ngige v Obi which finally ended in Obi's favour through the courts.
Why would the Federal Might not favour Nwoye? His past political alliance with the political godfathers who fought former governor Chris Ngige remains for him an albatross. It is also on record that these former Nwoye's partners pursued interests at variance with that of the people. Even if the people forgot, or are cajoled, Ngige has not forgotten, and would not miss the opportunity to pay back.
Yes, politicians bear grudge for long, and Ngige and his supporters are no exception. If he can help it, Ngige would not lend his political structure to enhance Nwoye's victory, neither would Senator Andy Uba for that matter.
Now here comes the clincher, the emergence of Nwoye as governor would mean the early political retirement of Ngige, Andy Ubah, and the likes of George Moghalu, Barth Nwibe, and are these men willing to work for their early political retirement? The answer is blowing in the winds.
Perhaps, the Federal Might added to a united APC in Anambra would have made a big difference, but the Anambra APC is anything but united. The likes of Barth Nwibe, George Moghalu, Andy Ubah who believe they were victims are still licking their wounds silently. Observers are still wondering why the charismatic Ngige has remained on the sidelines of the campaign.
Let's allow for a situation where the people may accept the candidate and ignore the party? Does such a situation exist? Nwoye may be touted as an aggressive grassroots mobiliser, but that is not the same as a charismatic leader. And in a fair contest, Ndi Anambra would rather make do with Obiano and his shortcomings, rather than a man they still maintain raped the State in collaboration with other political brigands.
But let the truth be told, some Anambra intellectuals are also wondering what experience Nwoye is really bringing to the table. Mbadinuju was a teacher, Peter Obi was a trader/business man, Ngige was a retired civil servant, and Obiano a former banker, but what does Nwoye do for a living? these group ask rhetorically.
Formidable, dogged, politically pragmatic, voice for the youths are colourful words the Nwoye campaign had invented to describe their candidate, but he remains a hard sell. Additionally, his sponsorship and allegiance to the ubiquitous godfather of Anambra politics, Chief Arthur Eze is not helping him. ''The term 'godfather' in Anambra politics is opprobrious to say the least'', writes Dr Socrates Ebo, a political philosopher.
This analysis seem to down play the candidacy of Obaze, but the reality is that he is out of his depths as far as Anambra politics concerned. Peter Obi, his godfather is banking on the presumption that if he sold Obiano to Anambra in 2010, he can equally sell Obaze. That is a faulty presumption. The conditions do not favour him at all and remains like a shifting sand.
Since after the ouster of Ngige in 2006, PDP has not been able to get its acts together and become strong enough to win the governorship in Anambra. Even now, such party stalwarts like Ifeanyi Ubah, Senator Stellah Oduah and John Emeka, all former guber aspirants had distanced themselves from Obaze's campaign, and may inevitably work against him. Even the acclaimed godfather of the party, Chris Uba is not with Obaze and Obi. So the question is, with which political structure would Obaze be delivered?
Quoting Dr Ebo again, ''Obi displaced the juggernauts and established interests in the PDP in a way that is allegedly foreign to fairness, equity and due process. These injured juggernauts remain his albatross in this quest"
Where is the place of Chidoka in these permutations? As far as Chidoka is concerned, the scenario that comes to mind is a replay of what befell former Central Bank Of Nigeria, CBN, Mr Charles Soludo who attempted the governorship race in 2009 under the PDP.
However, in Chidoka's case, he lacked the financial clout to buy PDP's structure, worse still his party, the UPP is yet to be firmly rooted, and again the roll of money comes in. He simply cannot grow the party as fast as he would have wished.
Summing up, another factor in favour of Obiano is the church – the Catholic Church, unobtrusive, silent, influential and despotic, is deeply embedded in Anambra politics. And it would definitely throw its weight behind Obiano.
Would it be a smooth sail for Obiano? Definitely not? His opponent, Nwoye fights to win, and he takes no prisoners. Thus to win, Obiano must set sail at a precipitous moment, trusting in factors unseen which may safely drive him to safer waters, and victory, it follows that fortune must favour the brave, and the prepared.
Written by Toni Icheku . A journalist, multimedia practitioner and commentator on sociopolitical issues. Email: toni.icheku@gmail.com.
The post Anambra 2017: Are The Odds Really In Gov. Obiano Favour? appeared first on Vanguard News.
Tags 2014
You may also like...