Alleged victims of military invasion drag Army, AGF, others to court
By Perez Brisibe
AJAKURAMA- SIX   residents of Ajakurama and Tarila Zion communities, Edo State, have dragged the Nigerian Army and the Attorney-General of the Federation, AGF, before a Federal High Court in Benin City, over supposed infringement of their fundamental human rights during the October 20 invasion of the community by soldiers attached to the 19 Battalion, Koko in Delta State.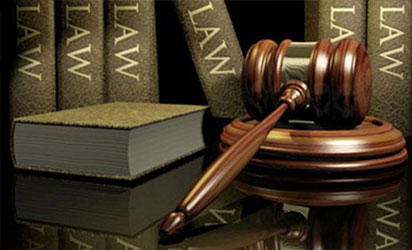 The applicants: Felix Odowu, Ogolugha Odowu, Aye Nisor, Christopher Felix, Ibenatei Ipuluwei and Teacher Magic are asking the court to award them N700 million as general damages against the respondents, jointly and severally, for the unlawful and unjustified damage of their property.
Credible information
Nigerian Army, 4th Brigade Command, Attorney-General of the Federation and five others are respondents in the case with suit No. FHC/B/CS/116/2017, filed on behalf of the applicants, who claim to be victims of the raid at the Benin Judicial Division of the Federal High Court of Nigeria.
Army Public Relations Officer, Fourth Brigade Command, Benin City, Captain Muhammed Maidawa, said the army raided the community following credible information that suspected militants were living in the communities.
Authorities announced later that soldiers recovered a cache of ammunition and military regalia in the operation, an allegation the residents described as "giving a dog a bad name just to hang it."
The applicants are also seeking "an order of perpetual injunction restraining the respondents whether by themselves, their privies and servants from further harassing, intimidating, humiliating the applicants and or invading Ajakurama and Tarila Zion communities."
They also want "an order of injunction restraining the army from further occupation of both communities as well as a letter of apology by the respondents to be published in a national newspaper."
Counsel to the applicants, Napoleon Egin, in a statement, explained that his clients were asking the court for a declaration that the military action, which culminated in the confiscation and alleged wanton destruction of their properties, was illegal, unlawful and unconstitutional and in flagrant violation of their fundamental rights.
"We equally filed an ex-parte motion praying the court to order parties to maintain status quo ante bellum pending the hearing and final determination of the originating motion on notice. This step was taken in view of the sinister mission of the Nigerian Army to annihilate any adult male indigene of our clients' communities," he stated.
The counsel added: "As we brief you this moment, the army's act of hostility against the good people of Ajakurama town in Egbema Ijaw clan of Edo State continues unabated and it is, however, hoped that with the service of this process on them today, there will be sign of peace and normalcy returning to the troubled area."
The post Alleged victims of military invasion drag Army, AGF, others to court appeared first on Vanguard News.
Tags 2014
You may also like...