Abia pensioners lament backlog of gratuities, pensions
By Anayo Okoli
UMUAHIA—ABIA State pensioners, who are groaning under huge indebtedness of over 18 months of pension arrears and 15 years of unpaid gratuities have suggested to the state government to make available monthly provision of N130 million for gradual clearance of the backlog of gratuities owed retired workers in the state.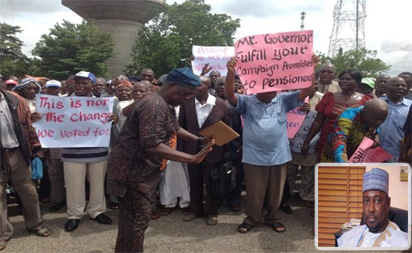 Retired workers in the state were last paid their gratuities in 2002 and backlog has been mounting since then.
The state chairman of the union, Chief Chukwuma Udensi, said the union made the suggestion because it did not see the government being able to clear the amount of money involved in the many years of arrears of gratuities at one swoop.
He said the huge debt could only be conveniently liquidated if the government accepts to make monthly provision to tackle it.
According to Udensi, the NUP suggested to the government that N80 million of the amount would be used to pay retired primary school teachers and retired local government workers, while N50 million will go for the payment of gratuity of retired civil servants.
Udensi said the pensioners believe that if the government had accepted the suggestion, which he said the union had made over eight years ago, the backlog of unpaid gratuity would not have accumulated as much as it is today.
The pensioners who were called to a meeting last month by Governor Okezie Ikpeazu, said the Government provided N100 million after the meeting for payment of gratuities but lamented that the money "did not go anywhere near the amount being owed retired workers".
"If the Government accepts our suggestion and releases this money monthly, they will be able to liquidate the huge backlog of gratuities owed to retired workers of Abia State and save lives.
"We have been begging and worrying the Government; they have not done anything to show that they are ready to clear the backlogs of arrears of gratuities and pensions owed retired workers in the State.
"We have cried and cried; we have cried out all the tears in our eyes, there are no more tears in our eyes. We now depend only on God to save our members who have been dying frequently", the Abia State NUP chairman lamented.
The post Abia pensioners lament backlog of gratuities, pensions appeared first on Vanguard News.
Tags 2014
You may also like...