2017 Nigerian Sports Award: Voting closes Nov 12
As the countdown towards the 6th edition of the Nigerian Sports Award gathers momentum, organizers have announced that the voting phase for the  awards will close by midnight of Sunday, November 12.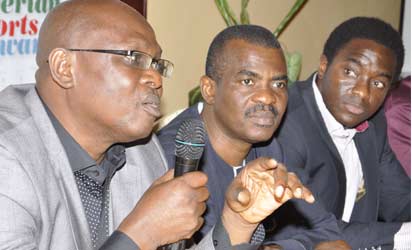 According to the spokesman for the award and the Executive Director, Unmissable Incentives Limited, Kayode Idowu, the voting phase which started on Thursday, October 5, is expected to close as stipulated by timelines for this year's award ceremony.
He stated that of the 19 categories which will be awarded this year, 4 of them are open to voting by the general public (Sportsman and Sportswoman of the Year as well as Sports Governor of the year and Sports Administrator of the year). Idowu urged sports loving Nigerians who still wish to vote for them to take the opportunity of the remaining few days to do so before the deadline.
He noted that interested members of the public should send an SMS: SMOTY for Sportsman of the Year; SWOTY for Sportswoman of the Year; SGOTY for Sports Governor of the Year; or SAOTY for Sports Administrator of the Year and the name of the athlete to 33140.
"They can also nominate through twitter.
The Nigerian Sports Award is an award to recognize and celebrate outstanding performances by our sports men and women, also personalities whose performances shone brightest at local and international level in the course of the year.
The post 2017 Nigerian Sports Award: Voting closes Nov 12 appeared first on Vanguard News.
Tags 2014
You may also like...