Why we're instituting criminal case against FG in ICC – ADF
By Emmanuel Elebeke
ABUJA – The President, Igbo pressure group, Alaigbo Development Foundation, ADF, Prof, Uzodinma Nwala has vowed that the group would leave no stone unturned to challenge what he  called ethnic cleansing and killings of Nigerians of Igbo extraction before and in the ongoing military action in the South East region by the Nigerian army.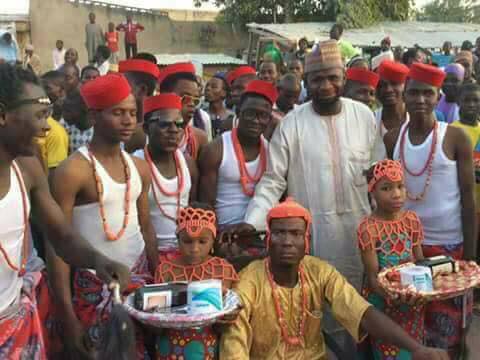 Prof. Nwala stated this while fielding questions from vanguard on the ongoing military occupation in the South East and the recent branding of IPOB as a terrorist organization by federal government which he said was unconstitutional and tantamount to giving a dog a bad name in order to hang it.
 This is even as he informed that the invasion of ''Alaigbo'' by the Nigerian Army aborted the formal announcement of the withdrawal of the campaign of the IPOB against the holding of November 18th Election in Anambra State
 He explained that the organization had already submitted its petition to the United State's Congress and many other paces and would approach the International Criminal Court, ICC as soon as they concluded the documentation of their evidence to prosecute the case.
They said the legal action was necessary in order to put the alleged on-going tragic slaughter and humiliation of innocent unarmed Igbo youth in a proper historical perspective so that the world can appreciate the pains and agony which they all feel and go through.
 ''We have visited United State Congress and during the visit to United State,  we visited many other places and we gave them  our petition, alerting them  that forces are mobilizing to decimate Ndigbo, in fact that another pogrom was in the making.
''Our people abroad are working hard. Petitions are virtually ready, and in our own case, we want to make sure everything is tidied up. We are documenting every case, this is not an emotional burden to ADF, and it is a highly intellectual burden. The documents are getting ready to prosecute these things.
''The petitions have gone out, including the ICC on the invasion. As the invasion was going on, documentations were made, including the videos forwarded to them. We are virtually ready to present the case on the issue of ethnic cleansing.
''That is for all UmuIgbo, wherever they are. They are ready to pursue this case. There is already a case which we are pursuing with other organizations in US and others in Nigeria. I can tell you that US lawyers are handling the case on behalf of all of us,'' he said.
Continuing, the ADF President said the decision of Federal government to apply military option in addressing the issue of agitation by IPOB and subsequently labelling the group as a terrorist organization amounts to illegality and negates common logic.
He expressed worry that this happened two days before the agreed date between ADF and IPOB leadership to announce new position of IPOB on Anambra election and other issues as agreed in their previous meetings.
He  maintained that the action of Federal government against IPOB was disturbing because it happen at the same time when the ADF had succeeded in pinning Kanu and his members down to withdraw some of their believes with superior and intellectual arguments.
He insisted that the organization had been pursuing a non-violent struggle for Self-Determination, a form of struggle that is very common in the history of Nigeria, insisting that IPOB was in no way different from Oduduwa Peoples' Congress, OPC, Niger Delta militants, nor the dreaded Boko Haram.
 ''After a serious deliberations, ADF came to the conclusion that the IPOB was a serious organization pursuing a non-violent struggle for Self-Determination, a form of struggle that is very common in the history of the crisis-ridden Federal Republic of Nigeria. It was no different from the Oduduwa Peoples' Congress, OPC, Niger Delta militants, nor even from the Boko Haram, which General Mohammadu Buhari and other Arewa leaders patronized before ISIS hijacked it from their warm embrace. While others were violent, IPOB was not violent movement,'' he added.
It was based on this premise, he said,  ''ADF issued a communiqué condemning the attitude of the Federal government under President Buhari's leadership, and urged the government to enter into negotiation with the leadership of IPOB and other members  held in detention.''
 ''Some have called it ethnic and religious cleansing. For us it is unconstitutional and marks the commencement of full-blown fascism in Nigeria which every lover of democracy and freedom should resist,'' he added, adding that Ndigbo would hold all those who participated in the planning and endorsement of the invasion and ensuring killing, humiliation and torture of armless and innocent youths accountable.
It will be recalled that the ADF had  sued President Muhammadu Buhari and the Chief of Army Staff, Lt-General Tukur Buratai at a Federal High court Enugu on Thursday 14 September, over the tension currently ongoing in Abia state between security operatives and members of the Indigenous People of Biafra, IPOB.
The group is reportedly asking the court for an order of immediate withdrawal of the soldiers of the Nigerian Army in the entire south eastern part of Nigeria.
The organisation seeks a declaration that "the action of the defendants, especially the 1st defendant, Buhari, in calling out, operationally engaging or deploying the armed forces of the Federation to the south eastern part of the country is illegal, unconstitutional, null and void and of no effect whatsoever."
 The ADF is represented by a team of seven lawyers led by Max Ozoaka who want the deployment of the soldiers to the southeast as illegal for the fact that there is no anarchy in the region to warrant the action.
According to Prof. Nwala, the Foundation had earlier met with Kanu and other  leader of IPOB, on 28th August  and 4th September to persuade them drop their stand on Anambra Governorship election and other issues they considered negative in IPOB methodology, and  cautioned against such utterances.  And at the end of the meeting, Kanu and his members asked for permission to allow them go and deliberate and bring their final decision.
''At the end they asked us to allow them to go and deliberate and bring us their final decision. On the 6th September, Mazi Nnamdi Kanu called and said to me ADF can now set the machinery in motion for the announcement that IPOB had agreed to withdraw their position to election in Anambra State.
''I told him, we should hold a joint-Press Conference on Tuesday being September 12th. The following two days we read that Nigerian arm had commenced the invasion of Alaigbo.  Kanu called again to say, 'I think we should hold on with the announcement of IPOB new position, so that no-one will say that we have withdrawn because of the military operations that have begun in Igboland.''   
On what ADF is doing on IPOB's proscription,  Prof, Nwala said, ''We are going to address that in our meeting next week. We feel that these guys cannot proscribe IPOB. It is illegal. Again, it is inanity, even if they start arresting everybody because of IPOB. How many will they arrest.  IPOB  can change its name to IPOD. It is a movement of a people and not  association you can register and later you say de-register it.
When asked the next line of action if they do not get justice in court, he said ''We will continue political struggle until we are free but we must learn from history on the methods of struggle like David learnt in his encounter with Goliath.''
The post Why we're instituting criminal case against FG in ICC – ADF appeared first on Vanguard News.
Tags 2014
You may also like...