Why we came out with budget of rural transformation in 2017 — Benue State Finance Commissioner
Mr. David Olofu is the Benue State Commissioner of Finance. In this interview with PETER DURU in Makurdi, he spoke on how the State is keying into the exportation drive of the Federal Government, the inability of the government to pay the wages of civil servants, the construction of a cargo airport in the State, the IGR of the State and several other nagging economic issues. Excerpt:
WHY has it become so difficult for the State government to meet its statutory obligation of paying workers their wages?
Well, beginning from last year, you are aware that not just the country but globally there were issues of economic recession. For us in Nigeria it was worst because of the nature of our economy. We rely heavily on earnings from our export of oil and because of the crash of price of oil, it became so difficult to meet some of the obligations as a government. So, essentially our inability to meet this obligation has to do with inflows.
The inflows are no longer sufficient to meet the basic obligations of government. For anybody who is an employer, the first thing to do is to pay staff salary but increasingly that has become difficult. I had recently interacted with some staff of the state tertiary institutions. It may interest you to know that on monthly basis, we spend over N1billion to pay salaries to our staff in tertiary institutions. And again, you now consider the wage bills of other civil servants in the state which is on the high side also.
Biometric exercise
Moreover there is no viable industry in the state, a lot of people here depend on civil servants. A lot of people are under the employment of government, you have relatively high wage bill and its becoming increasingly difficult to maintain the high wage bill.
That was what specifically informed the Governor to declared a state of emergency on payment of salaries. He also set up a committee headed by the Deputy Governor to undertake the assignment of screening the workforce. Before now, we had conducted biometric exercise and we realised that there where lots of sharp practices. For instance, somebody who was supposed to retire a year or years ago was still found to be on the payroll of government. But to check all that, we have developed a biometric system such that when you are employed, it checks you in as a civil servant and when you are due for retirement it checks you out. So that takes away that control from the civil servants who were determining when a worker should leave the service.
The system also gives you notice maybe three months to your exit from service. The system determines in advance the due time when you are suppose to leave the service. The system has your complete bio data. It also automatically checks you out of government payroll when you retire. I am hopeful that when we conclude this work of the state of emergency committee we will now be able to integrate the outcome of that exercise and deploy its full implementation because there are yet some components of the public service that have not be captured.
How is the state taking advantage of the Federal government renewed exportation drive to boost its revenue considering that Benue is a major producer of agro products in the country?
It has to be first things first, somethings don't just happen overnight. That is why the government came out with a budget of rural transformation this year 2017. Because as a government you must get your infrastructure right, you must make sure the roads, especially in the rural communities, are accessible, that is key. Hence that the government want to ensure that rural roads among other things are in good order and accessible. We are making sure that there is light so that people can engage in little production processes of their farm produce and be able to convey them to the markets for sale.
For instance if you want to buy bulk oranges now, we do not have something like a holding facility, anywhere, world class standard, that you can walk into with your truck and buy these produce and convey to your factory for processing. What we have are local markets scattered all over the place. So government has taken the responsibility of doing that.
But it is not something you do overnight. Its a gradual process because the funds are not available. So, government is looking at having what you can call aggregation centres where you could have controlled storage facilities like for oranges and other produce. For instance Makurdi can have a mega agrigation centres for some of our produce. Where you have controlled storage facility for oranges, for instance, and other fruits and grains and all that but that doesn't happen overnight and you need big money for that kind of project and you also need big money to go into infrastructure like roads network so that these things can be moved to wherever the centres are located.
That is the way to go for Benue. Until you get that right, it will be difficult to key effectively into the  export programme of the federal government. We need money for that kind of facility but government does not have though we are doing our best in that regard. Mind you we have a River Benue that is not dredged, so river transport is out of it, and we also have a rail system that is not functional. So the only way that is left for us as a government is to make sure that we open up our rural areas to ensure that goods come out of our localities.
Some are of the view that the government is not thinking out of the box but rely on federal allocation. What are the benefits of the overseas trips of the Governor and government functionaries to woo investors?
Well, that perception is completely wrong, the fact is that investment is a process, when you are wooing investors they first and foremost come and see that what you are marketing to them is worth their money. They will make explorative visits to ensure that what you presented to them is as it is. Then they will go back and put up a feasibility report that will back up what they have seen.
And of course we are a State in the federation, for instance, for a first time investor, there are certain conditions that would have to be met both at the federal level before you can even talk of coming down to the state to begin to process whatever sector you want to engage in. That is under the control of the Federal Government. I'm not saying that the federal government is hindering the process in anyway, but what I want to say actually is that its a process and depending on the sector you want to invest in, it may take up to six months to one year and sometimes even up to two or more years.
Construction of a cargo airport
You are aware that this same government has signed an agreement for the construction of a cargo airport in the state. That is a huge investment that would see the investor committing well over N37billion in the state. For us that is one way of keying into the export project of the federal government because it's easier for us to do than either dredge River Benue or working on the railway lines, those are federal projects.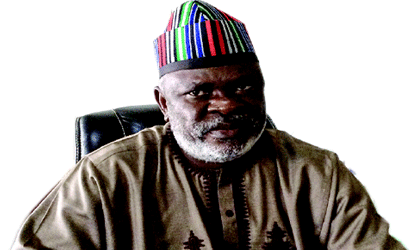 But for the airport project the state can take it on and that is why the state government is keying into that. So I don't want to agree with the statement that no investor has come to invest in Benue. About two days ago I was part of a meeting on the same project. What we are doing now is due diligence in terms of community engagement and I'm confident in the technical partners that have been introduced to us. The fact is that you will not know whether you will succeed unless you give it a trial. So we need to give that a trial because it's the required boost we need in Benue.
What else is the state doing to boost its internally Generated Revenue, IGR, to augment what comes from the federation account and how far has the state gone in its quest to source loans to off set backlog of salaries owed it's workers?
On the issue of the IGR, I'm sure you do have interface with the Chairman of Benue Internal Revenue Service, BIRS. Since she came on board she has been very active and also creating the needed awareness to enable us collect the required taxes and revenue for government. And since we came on board, in order to block some of the leakages, we made sure that all government revenues are paid into a consolidated account. We are also implementing the use of Point Of Sale, POS, services. Though there is no human system that is perfect but we will continue because there is no end to quality service delivery. So that means that there is always room for improvement. So the system of collection we have now can still be improved on. We will continue to do our best to achieve our targets.
On the issue of loans for the payment of salaries. I must say it is extremely difficult probably because of the recession and the general situation in the country. For you to take a loan for instance, you need approval from the Federal Ministry of Finance and the Debt Management Office, even if it is offshore, an external loan, you need the approval of the National Assembly. So it is not as easy as just walking into the bank here in Makurdi and demand for loan and it is given to you. There is a process to it and this process can take a long time.
Now, particularly to the issue of payment of salaries, what we want to do and we are hoping that we can still do, is to allow the State of Emergency Committee on salary payment to finish their screening work then we can now know what the outcome of the screening is. We will know how much we need to borrow to take care of everything because we are on one hand talking of the state government and on the other hand we are talking of the local governments councils because we can't continue to talk of the state government and pretend that the local government is not there.
In fact the local governments are where we have more staff because of the teachers. So we need to know the totality of it before we can start the process. At the right time we will start the process but I do not say when we start we will get the approval because it is left for us to make the application to those who are responsible for the approval. And then we will work with them to see how we can get the approval. Until we get there we will not say any further.
And on the issue of Pay As You Earn, PAYE, deductions, the state public servants are one component of PAYE and then you have, of course, the commercial PAYE. It's a tricky one, tricky in the sense that sometimes you barely manage to pay salaries. And then when you are even paying, the PAYE is government money so we do the mathematics and pay the workers their money because the money has to go round. If you say ok because PAYE needs to be deducted and you do that and at the end of the day the money doesn't go round what do you do?
The post Why we came out with budget of rural transformation in 2017 — Benue State Finance Commissioner appeared first on Vanguard News.
Tags 2014
You may also like...