Why we back Igbo Presidency for 2019—Northern youths
By Emeka Mamah & Chinonso Alozie
OWERRI—YOUTHS from the northern region, said they would back the Southeast region to produce the president of Nigeria in 2019, adding that their support would weaken the agitations for a Biafra Republic in the country.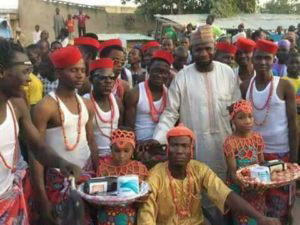 The declaration was made during their summit at Arondizuogu in Imo State.
The groups included Arewa Youths Forum, Arewa Youths Coalition for Peace, Northern Central Youth Club,  as well as Youths for One Nigeria, among others.
This came as the Indigenous People of Biafra, IPOB, said it has successfully launched a new Radio Nigeria Hausa station for the oppressed people of the North.
According to IPOB, the new station would start its maiden broadcast by 7pm tomorrow on Short Wave 15110 KHz 19 Meter Band, and would be received in the West, East  and Southern Africa.
Speaking on their supoort for Igbo presidency, the Spokesperson of Arewa Youths, Alhaji Haruna Waziri, revealed that the convener of the youth summit, Mr. Iheanachor Ezeakor, has been endorsed by the group for 2019 presidency.
Part of the reason given by Waziri, was that with an Igbo man as president of Nigeria, Biafran agitations would be slackened, while peace and unity of the country would be strengthened.
He said: "Today, we are making history by endorsing a youth to run for the number one seat in Nigeria. Mr. Iheanacho Ezeakor is a youth, who has broken the barriers of ethnicity and religion, a youth the Northern youths believe in; a youth who is a true Nigerian.
"We do not believe in things not working out; we believe that this is the time to change the narrative in Nigeria. This community, Arondizuogu is a place where democracy started in the country and that is why we are here today to correct all that had gone wrong.
"We made this statement in Enugu, Lagos and Abuja; today the climax of it all is taking place in Ezeakor's village here in Arondizuogu.
"We took this step because our leaders have failed us; they are old and tired; we can do it because the youths contribute the major votes.
"It is no longer about ethnicity or religion now; it is about who you have confidence in. Ezeakor is a detribalized Nigerian; we don't want fanatics; we want a true Nigerian."
Waziri was of the view that Ezeakor's victory will not only quell  the agitations for Biafra, but will also further unite Nigerians, whether from the South or the North," he noted.
Ezeakor who accepted to run for presidency, said he was not going to do that on the platform of PDP or APC, saying that the parties were for old politicians. He hinted that he was going to tell Nigerians soon the party on which he would vie for the presidency.
Ezeakor said: "So, I'm just acting as the catalyst, to motivate the youths; we are not fighting the government, but we want them to understand that we have come of age.
"My  own as the convener of Nigerian Youth Summit is to make sure that things will not remain the same because we can't continue with the arrangement that youths are the leaders of tomorrow."
IPOB launches new Radio Nigeria Hausa Service
Meantime, IPOB  has said that its new Radio Hausa station would expose all the misinformation and manipulations by northern leaders to keep the Indigenous Populations of Northern Nigeria, IPNN, backward in a bid to continue to oppress and lord over them.
This was contained in a statement signed by the Media and Publicity Secretary of IPOB, Comrade Emma Powerful.   It also said that those with the illusion that IPOB had been weakened by the absence of its leader, Mazi Nnamdi Kanu, would be disappointed this year, as it would soon increase the tempo of its activities.
The statement read, "In keeping with our promise to facilitate the creation of an unbiased and informative platform to take the message of liberation to the down trodden and oppressed Indigenous Populations of Northern Nigeria, we the family members of the IPOB, worldwide and it's indomitable leadership, wish to happily announce the official launch of the much anticipated IPOB sponsored Radio Nigeria Hausa Service. "The maiden daily broadcast will hit the airwaves on Saturday, January 6, 2018 at 7pm Nigerian time on Short Wave 15110 KHz 19 Meter Band."
"The broadcast will have the widest coverage of any radio signal in Africa. It will be received all over West, East and Southern Africa.
"Every Hausa speaking community in Africa will be able to receive it. In our opinion, we feel it has become imperative to educate the poor masses of northern Nigeria, whom the ruling class have cleverly enslaved and impoverished… by keeping vital information and knowledge away from them. This information deficit is what Radio Nigeria Hausa Service has come to remedy.
"All the hitherto hidden history of the conquest of indigenous Hausa speaking populations of the North will be laid bare for the world to know. More importantly, enslaved minorities of Arewa North, brutally savaged by Fulani terrorist herdsmen, through this unbiased platform, will acquire the necessary education needed to liberate themselves from the suffocating stranglehold of the caliphate or the born to rule class.
"What we hope to demonstrate through the launch of this liberation radio station is to prove beyond every conceivable doubt that IPOB is not a selfish movement concerned only about the well-being of Biafrans, but are also genuinely concerned about the plight of all oppressed people in Nigeria as stated by our leader Mazi Nnamdi Kanu on countless occasions. "Regardless of ethnicity, religion or creed, IPOB is pursuing an agenda of freedom for all. Our message is very simple, 2018 will be like no other in the history of Nigeria and will prove to be the year of liberation for those brave enough to confront the evil that Nigeria has become in the lives of millions of people.
"Our quest for the total and unadulterated liberation of Biafraland is unstoppable; this we shall demonstrate in the coming months. Those deluding themselves with the laughable and perverse notion that IPOB has been weakened because of the absence of our leader are in for a shock.
"This move today is the beginning of a mass revolution against our oppressors that will spread outside the borders of Biafra land.
"The coming of this new revolutionary Radio Nigeria Hausa Service will expose centuries old/ dark secrets through education of the oppressed Hausa Fulani youths that IPOB and Biafra mean well for them contrary to the lies being peddled by their corrupt leadership.
"We will not fail to let all Northern youths understand that their political leaders, elders and fathers like those in Biafra land are the real oppressors that have, over the years, kept them in the dark through a carefully crafted and systematic regime of misinformation and propagation of falsehood. Every Hausa speaking Northerner is advised to tune to 15110 KHz every night from 7 pm, starting from this Saturday, January 6, 2018, to be educated in order to be liberated."
The post Why we back Igbo Presidency for 2019—Northern youths appeared first on Vanguard News.
Tags 2014
You may also like...