Why Igbo youths are very angry — Obiozor (II)
Yesterday, Dr. George Obiozor, erstwhile director-general of the Nigerian Institute of International Affairs, NIIA and Nigeria ambassador to the United States spoke on inequalities in the Nigeria federation. In the concluding part of the interview, he speaks on how the inequalities have cascaded to affect the youths and the role of the international community in sustaining the inequalities.
Continued from yesterday
By Chioma Gabriel, Editor, Special Features
After the military has altered the original federal platform, do you think any government will subscribe to Nigeria having a weak centre?
We are not talking about weak centre. You contribute in accordance with the responsibility of the centre. Have you seen a place in the world where they say a local government is created by the federal government? Think of that. Have you seen a situation where the wealth from one end of the country is shifted to the federal government to share.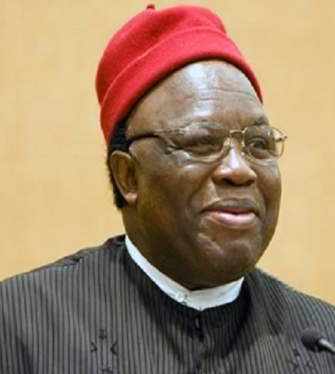 That was not how it was done in the beginning. That is not how it is done in any other part of the world. You don't rob Peter to pay Paul. You don't take the oil resources from a region to go and develop other regions and leave the region where the oil is generated impoverished. The oil in Texas is not sent to Oklahoma, the money is not sent to the centre to share and they just give you what they like. That is a distorted kind of federalism. People cannot say you have a strong centre by robbing Peter to pay Paul.
What is important is that the federal system we have today is a coordinate supremacy of the levels of government with regards to their respective functions. There is a golden rule for federalism all over the world. There are several kinds of federalism and that is why the one you have is the one that suits your condition politically, economically and culturally and produces stability and peace for you as a nation.
There is no need telling us about weak centre. A strong centre has a rule. You're not a strong centre by building primary schools in states . A centre that builds almajiri schools, is it a strong centre? You don't have to control agriculture in a state and say a land from a state should be turned over to the federal government. What kind of federalism is that?
You have been in the United States as ambassador and Nigeria is part of the global community. Is there anything the outside world can do to help Nigeria restructure?
In fact, there is a limit to what they can do within your domestic politics. They will expect you to know how to govern yourselves by now and the truth of the matter is that our situation leaves some countries disappointed in Nigeria after so many years. We may pretend but the truth is that some of the things happening in Nigeria do not make any of us proud. Some of them are so easy to solve but there is no political will to solve them. It shows something is wrong with our leadership. Our leaders by refusing to solve serious national issues give us the impression that they have great passion for wickedness by not solving a small problem until it becomes a national disaster. You deny others their freedom, forgetting that those who deny freedom for others deserve it not for themselves.
That is what the people in power want, to intimidate you and then do what they like. That time is over.
I want to believe you are talking about Britain when you mentioned the international community. Anytime anybody mentions international community in Nigeria, it means Britain. The British have a way of working closely with Nigerian leaders whom they like. So, they created a Nigeria in which there are two types of Nigerians: the beloved part of Nigeria and the tolerated part of Nigeria. The British actually favoured the north and tolerate the south.
That has been the history since amalgamation. For whatever the reason, the truth is that it is in the British interest and that is what they are doing. And they do it quite neatly. As of today, if there is crisis, they know where to go, whose side to be. It is usual for them but then, they themselves have their own problems today as opposed to two years back.
They regard some parts of Nigeria as friends and make people over-dependent on what they will do domestically in Nigeria. But eventually, the British tend to inherit our problem and they dictate how the solution will come. This is not new. They did it during the Aburi agreement after the Nigerian soldiers have agreed among themselves what to do to prevent war, only for them to be addressed that they didn't negotiate well and that was the beginning of the crisis of non-implementation of the Aburi agreement and then the civil war. The rest is history. I am sure the British themselves would be worried about the level of crisis in Nigeria, but also sure that they will try to find out the solution because it directly affects their national interest.
Britain is even more important today than a few years ago. With the shock of Brexit, Britain needs a fall back situation towards former lucrative colonies, to sustain its power, privilege, prosperity and influence as well as the influence within the international community. Certainly, the British Common Wealth Organisation will now receive the British attention more than ever. When British was part of European Union, it cared less for the commonwealth and faced Europe. Now, that is gone, Britain has found out that there is only one step from the sublime to the ridiculous in international relations.
We are at the era again when Nigerian politics must stop the practice where leadership is reduced to the drama of where the aspirant comes from and what region and religion he is and concentrate on what such aspirant can do for the people of Nigeria and the country.
Do you think this present regime hates Igbo?
I cannot use the word hate but definitely, every indication has been that it is indifferent to the fate of the Igbo.
Arewa Youths do some things and get away with it but when Igbo youths do the same things, they are killed. Why?
That tells the story. I cannot use the word hate but one can see that leadership is not well disposed towards the Igbo. Then, it is left for the Igbo to say what did we do to the regime?
Igbos say Igbo enwe eze
That is not true. Igbo have leaders. Every nation's leader has his own style of operation. Igbo leaders don't emerge in time of peace. Igbo leaders emerge in time of war. That's why no other group is as independently minded as the Igbo. The average Igbo man is busy with his business in whatever form the business is. They don't really have time for quarrel with others. They pay you attention or fight only when you show resentment.
Would you call a man like Nnamdi Kanu an Igbo leader?
Believe me, you can't remove anybody. You can't say, this person or that person is not an Igbo leader. A leader means a person with followers. If a mad man has followers, he becomes a leader. It's a matter of what kind of leader will he be.
Nnamdi Kanu belongs to the youths. They are really upset, they have a righteous indignation. They are angry. The youths have to be pacified and advised on how to handle the problem that affects them. Whether it is IPOB, MASSOB, Arewa youths or Oduduwa youths, the answer is not to condemn them but to understand them. Look at what Arewa youths did, they went to one corner and said some people should leave Nigeria. Theirs is even more treasonable than what IPOB is doing. I even heard there is another group in Yorubland that has declared their independence.We should find a way to pacify the youths.
The post Why Igbo youths are very angry — Obiozor (II) appeared first on Vanguard News.
Tags 2014
You may also like...