Who is Lagos Police Commissioner?
By Ifeanyi Okolie
Uncertainty, yesterday, trailed the reported redeployment of Fatai Owoseni out of Lagos State as the Commissioner of Police by the Inspector General of Police, Ibrahim Idris, as Owoseni told newsmen at the Police Officers Mess, Ikeja, that he remains the substantive CP of the state.
The Inspector General of Police had, through a police wireless message with number DTO: 29817/18/2017, ordered Owoseni out of Lagos State.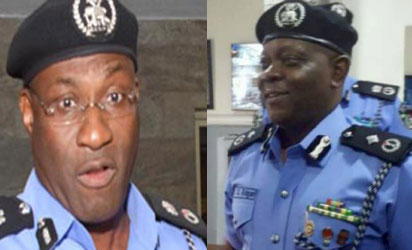 He was posted to the Force Headquarters, Abuja, where he will work at the Force Criminal Intelligence and Investigation Department, FCIID. The signal also ordered the posting of Imohimi Edgar to take over as the new Commissioner of Police, Lagos State.
However, Owoseni told newsmen at the Lagos State Police Command, Ikeja, that he was yet to receive any directive concerning a new Police Commissioner in the state.
He was quoted as saying: "When we get the information, we will let you know."
When asked about the development, Force Public Relations Officer, Jimoh Moshood, a Chief Superintendent of Police, refused to comment, but a highly-placed officer, who pleaded anonymity, hinted that Owoseni had been recommended for a course by the Police Service Commission.
The rumour over Owoseni's redeployment has raged for a while.
Profile
Edgar, the supposed new CP is a seasoned police officer, who was until his promotion, the Deputy Commissioner of Police in-charge-of Operations in Lagos State. He was instrumental to curbing the activities of the dreaded Badoo cult and militant kidnappers within Ikorodu axis.
He was enlisted into the Nigeria Police Force as a cadet Assistant Superintendent of Police, on February 2, 1986, serving in various commands and formations in several capacities, spending most of his days at the Lagos State Police Command.
A 1984 graduate of Art at the University of Jos, who went on to bag a master degree in Public and International Affairs at the University of Lagos in 2004, Edgar is highly trained on Community and Intelligence Gathering Policing, and organised the first Community Policing summits in Ikeja GRA, Lagos State.
It is on record that Edgar, who served as the Divisional Police Officer of Shomolu Police Division, Seme Police Division, Ikeja and Surelere Police Divisions, between 2003 and 2011, as a Chief Superintendent of Police, before he was promoted and appointed the Assistant Commissioner of Police in charge of the Area 'A' Command, Lagos, obtained a diploma degree in Police Science.
Education
He also obtained a certificate of National Security for Nigeria Defense Intelligence at the Centre of Strategic Studies, Galilee International Management Institute, Israel, and the Defense Intelligence College, Abuja, in 2015, which necessitated his appointment as the ACP in-charge-of the Intelligence at the Police Force Headquarters, Abuja.
An expert in Community Policing, Edgar attended several courses organised by the Department for International Development, DFID, United Kingdom, in Lagos, Awka, Anambra States and Staff College Jos, Plateau State.
In 2010, Edgar, as DPO, Ikeja Division, launched the first Community Policing in Ikeja Lagos State. He hosted security stakeholders in Ikeja, and lectured participants on how to assist the police on Community Policing.
Achievements
Following his promotion to the rank of a DCP and his appointment as DC Operations, Lagos State, Edgar, through his community policing experience, mobilised a joint security operation, involving members of the Oodua Progress Congress, OPC; Ikorodu Local Vigilante, Oyebo, the Department of State Services, DSS; Lagos Neighborhood Safety Corps, traditionalists and some local chiefs in Ikorodu, in tackling the menace of the Badoo cult group, which had killed several persons in Ikorodu and Ogijo areas of Lagos and Ogun State.
He was also said to have played a huge role in the successful rescue of the six kidnapped students of Lagos Model College, Igbonla, Epe, who were abducted on May 25 by gunmen, who invaded the school.
Edgar was said to have mobilised policemen from the Anti-Robbery and Kidnapping units of the Lagos Command and their counterparts at the Marine Police in attacking and killing members of the kidnap gang, when they attempted to snatch some police gunboats, from the Marine Police Post in Ajah.
The leader of the kidnap gang, known as America, was killed in that operation, his death and the subsequent arrest of relatives of his gang members compelled members of gang to release the kidnapped students in Ondo State.
Edgar hails from Eme-Ora town in Owa West Local Government Area of Edo State, while his mother is an indigene of Usi in Ekiti State.
The post Who is Lagos Police Commissioner? appeared first on Vanguard News.
Tags 2014
You may also like...