We will investigate invasion of Owerri land by militants — Iwuanyawu
…As Owerri people invoke their ancestors
By Chinonso Alozie, Owerri
An elder statesman, Chief Emmanuel Iwuanyawu, said yesterday that the alleged invasion of Owerri land by militants from Ohaji/Egbema, during the demolition of Eke ukwu market, would be investigated.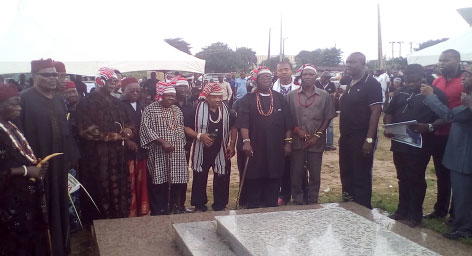 Iwuayanwu stated this at a meeting of  Owerri indigenes held at Ugwu Ekwema in Owerri.
This was even as the highest traditional institution in Owerri, Oha, led by Nze Boniface Anukam, called on their gods for protection and to fight for them.
Also, a one week mourning was declared while a minute silence was held for the 10 year old boy, Somtochukwu Ibeanusi, allegedly shot by solders during the demotion.
According to Iwuanyanwu, "what happened in Owerri, should be a source of worry for everybody from Owerri zone. The truth is that I am proud of Owerri zone and there is no group as generous as Owerri people. The matter before us is very serious, we want to know why the demolition of a market claimed the live of a 10 year old boy.
"We are going to convene an emergency meeting of Owerri Peoples Assembly and in that meeting we are going to investigate the matter of who brought the militants and why they were here during the demolition. We must take other decisions to move this state forward and we must make sure the people who were affected are compensated. We must know the property of Owerri people and what they are doing with them. Nobody can just shed the blood of the innocent."
The chairman of the occasion, Mr Ken Njemanze, SAN, said: "We will seek legal action to redress this injustice. I want to say this, all of them who disobeyed the court order will go to prison. We will use the law to seek justice."
The post We will investigate invasion of Owerri land by militants — Iwuanyawu appeared first on Vanguard News.
Tags 2014
You may also like...