We welcome Coutinho back- Klopp
By Emmanuel Okogba
Liverpool coach Jurgen Klopp has for the first time spoken about Philippe Coutinho who was the centre of a transfer drama that led to the player missing the first three games of the league season and UEFA Champions League play-off.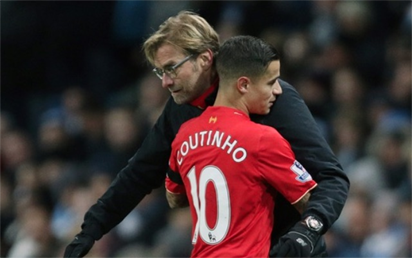 Coutinho had reportedly handed in a transfer request as he sought to join Barcelona who were seeking for a replacement for Neymar.
Liverpool according to reports were resolute and turned down Barcelona on different occassions, the last being a staggering €200million bid.
Klopp who was spoke to German media outlet SPORT1 after coaching in Nikolce Noveski's testimonial game at former club Mainz said , "We have exactly the situation we wanted and no other so we welcome a great player.
"Don't believe everything in the press or that there are offers here and there and that the minute after the offer has been entered, it should already be over.
"We are not like George Orwell where everybody knows everything immediately.
"We still have a really good player in the squad who can play."
The post We welcome Coutinho back- Klopp appeared first on Vanguard News.
Tags 2014
You may also like...