Video of how Lagos private school Supervisor defiled 2-yr-old shown in court
By Abdulwahab Abdulah
Justice Sybil Nwaka of the Sexual Offences and Domestic Violence Court, yesterday through a video clip, heard how a two years, 11-month old pupil of a popular private school in Lagos was defiled by the school's Supervisor.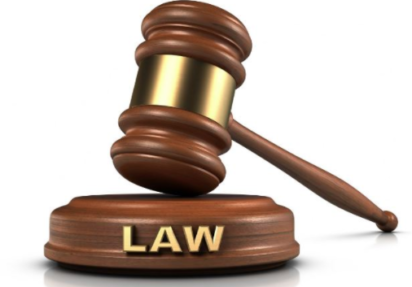 The video recording was played during the testimony of Miss Olive Ogedengbe in the criminal trial of Adegboyega Adenekan, 47, a Supervisor of the school.
In the proceedings, which lasted for almost five hours, the witness, who is a clinical psychologist, narrated to the court how the defilement was carried out by the Supervisor.
The video recording depicted the child in the clinical psychologist's office on November 28, 2016, answering questions about the alleged defilement from Ogedengbe and her colleague.
The video
In the recording, the child was given a sheet of paper and asked to draw Adenekan's private part, which she did as well as another image, saying "that is the hand he used to put in my wee wee."
Ogedengbe, querying the child further, asked: "Where is Mr. Adenekan's wee wee?"
The child pointed to her private area.
Ogedengbe: Does he put his wee wee in your wee wee?"
The child: Yes.
The girl, as seen in the video, then used a teddy bear to show how the supervisor allegedly sexually abused her friend (name withheld); she is seen kissing the private region of the teddy bear and saying "Your bum bum is delicious, your bum bum is sweet, I will eat your bum bum."
Meanwhile, Justice Sybil Nwaka has adjourned the case till March 21 for continuation of trial.
Testimony
Before the video recording was played in the courtroom, Ogedengbe, in her testimony while being led by Mr. Jide Boye, the Chief State Counsel, narrated to the court what had previously transpired during her interaction with the child.
She said: "The mother came into my office with a referral letter from Lagos State Domestic and Sexual Violence Response Team, DSVRT, narrated the story and started crying.
"She (the mother) said she did not know the reason why this was happening to her and that she was usually over-protective of her children and follows them everywhere, except school.
"She said somebody in her church handed her a book on sexual education for children, which she read and decided to practice it on her child.
"That was when the child disclosed that she has been defiled. The child told her mother that Mr. Adenekan comes to take her out of the class and shows her some videos that are sexually stimulating.
"She pleaded with us to help her child. I carried out an independent psychological evaluation on the child; I asked the mother to sit at the corner of the room and my colleague and I interacted with the child."
The child's revelation
She continued: "We did not directly start interrogating the child as that was against the ethics of our profession.
"We started an initial interaction with the child to make her relax. When we had gained her trust, she was in a happy frame of mind. I then asked the child 'who touched your wee wee?' She repeated 'Mr Adenekan' several times.
"I was shocked because I did not expect it from a child her age. I brought out my assessment sheet and I told the child to draw any person that comes to her mind.
"She restlessly started jumping around, saying "Mr. Adenekan is on my mind.' We got her to settle down, but she continued talking without drawing yet.
"She said 'Mr. Adenekan said it is good for a child to put her wee wee in Mr. Adenekan's wee wee.' At that point, we decided to do a recording to ensure her story remains consistent.
"We asked her how Mr. Adenekan's wee wee looks like and she demonstrated playfully by pointing her finger upwards, saying 'sharpener'.
"We asked her sharpener or pencil? She started 'sharpener.' We then told her to draw Mr, Adenekan's wee wee. To my greatest shock and surprise, the two-year-old drew a picture which symbolises the reproductive organs of a man in the form of a penis.
"I then asked her to show me your wee wee and she pointed at her private part. I asked her to show me where Mr. Adenekan's wee wee is and she pointed at the lower region of her private part."
According to Ogedengbe, "by then the child was again getting very restless and she ran to her mother, who was at the corner of the room.
"We still wanted to hear more, but she was playfully running around and her mother started probing her: 'is it only you he comes around to take out of the class?' and she replied 'no'.
"The child said it was herself and her friend. So her mother asked her to show us what he does to her friend. The child said he kisses her bum bum and he licks her bum bum, demonstrating it by using a puppy in the room."
Child develops strange traits
Ogedengbe, during her lengthy testimony, said from her evaluation, the mother and child need psychological help.
She said: "Afterwards, I decided to confirm from the mother if the child if she observed any strange behaviour in the child and the mother said yes.
"I asked because I noticed in the course of interacting with the child that the child was occasionally aggressive. The mother confirmed this and also stated that the child had problems with sleeping and had been having nightmares.
"She also complained of inappropriate sexual behaviour from the child, as she suddenly became curious to see people's naked bodies."
"From my findings, the child exhibited aggressive behaviour, inappropriate sexual behaviour, sleeping problems and also fear."
She continued: "After the interaction, my colleague and I realised that the child and mother needed help. The mother also exhibited signs of post-traumatic stress disorder, PTSD.
"We decided to do an intervention and held two more sessions of psycho-social intervention for the mother and she was counselled on how to help and assist the child."
Other victim's mother scared of stigma
Ogedengbe, while being cross-examined by Mr. Olatunde Adejuyigbe (SAN) said the child was not tutored on what to say during the interview by either her or the child's mother.
According to her, "we used projective techniques in which a client projects their subconscious minds on paper."
The clinical psychologist revealed to Adejuyigbe that she visited the mother of the other victim, who was also allegedly sexually assaulted by Adenekan.
"We saw the mother of the child's friend, but she was not willing to get involved in the case because of stigma," she said.
Ogedengbe also added that she did not interview the staff of school, the child's father and her older sister, adding that the child was of above average intelligence.
She said: "Children from zero to five years are usually not able to form full sentences. But the child could string meaningful sentences together. Most children her age do not draw meaningful images, but she did.
"I have worked with children her age from diverse sections of society and she is of above average intelligence."
On re-examination by Boye, the prosecutor, Ogedengbe insisted that the child was not tutored.
Her words: "If a child is being brainwashed or tutored, they won't be consistent in answering several questions.
"You will see it in her non-verbal behaviour that she was tutored. There would be no flow of conversation; this child was not tutored."
The post Video of how Lagos private school Supervisor defiled 2-yr-old shown in court appeared first on Vanguard News.
Tags 2014
You may also like...