USAID builds bridges between farmers, herdsmen
Emma Ujah, Abuja Bureau Chief
The United States Agency for International Development (USAID) is currently building bridges between herdsmen and farmers across the country with a view to ending decades of clashes between the two parties.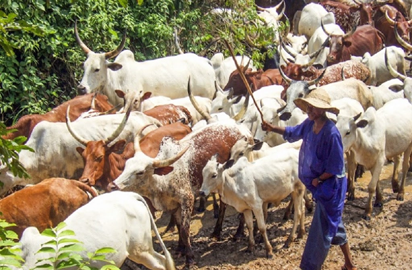 The clashes have currently escalated to unprecedented levels and spread to parts of the country there were never heard of.
USAID is working in collaboration with several Non-Governmental Organisations (NGOs) such as Inter-faith Mediation Centre, Mercy Corps and Research for Common Ground, as well as, advocacy organizations such as the Miyeti Allah Cattle Breeders ' Association of Nigeria (MACBAN) and the All Farmers' Association of Nigeria(AFAN).
According to the Conflict Programme Specialist , Peace and Democratic Governance Team, Mr. Mukhtari Shitu, who spoke in Abuja, the objective was to bring together, members of affected communities in order to identify causes of the conflicts and to proffer lasting solutions to them.
Commenting on the Herders and Farmers Project case study by Mercy Corps, he said that there was need for the two sides to appreciate each other and agree to live in a harmonious relationship in the interest of peace and socio-economic development.
The report which was presented by Mr. Chom Bagu at a media roundtable discussion by the US Embassy in Abuja, indicated that the clashes between farmers and herders were basically over natural resources, especially land but that there were more complexities to the problem than explicitly seen.
Using the Southern Kaduna as a case study, current issues from the farmers perspective were the destruction of farms by cattle; destruction of lives and property; herdsmen settle without notice nor permission; illegal possession of firearms; looting and stealing; change in migration pattern which has increased pressure on land; as well as, influx of unidentified persons into local communities.
Besides, the farmers complained of suspicious helicopters dropping in the bush, allegedly to supply military and other aids to herdsmen; religious bigotry; destruction of places of worship; and lack of effective security emergencies.
The farmers also identified other causes of clashes as: encroachment of farmlands by herders; free ranching by herders without anyone to guide them; under-aged grazing; attacks on farmers by herders and counter-attacks by youths; robbery and rape of farming communities' women and girls; destruction of honey caves ; herders' encroachment on "no-go-areas" such as religiously considered sacred places in communities.
On the other hand, herders, according to the study, identified the blockage of cattle grazing routes; killing of persons and cows; roadblocks by ethnic groups; indigene/settler issues, as well as, religious/ethnic considerations, as some of the key factors in the clashes.
The herders also complained of cattle rustling; poisoning of cattle; rumours of jungle justice; limited access to water points for cattle; killing of people in transit; drug abuse; as well as, alleged bias and negative reportage by the media.
Senior Information Specialist of the embassy, Mr. Sani Mohammed, and several other discussants among the NGOs called on journalists to exercise restraint in their reportage of the conflicts to avoid escalating farmers/herders clashes.
They cautioned against labeling Fulani herdsmen as terrorists, as such categorization could lead to the profiling of that ethnic group as terrorists, especially by the international community.
Nigerian journalists challenged to consider it a duty to contribute to the solution of the problem between farmers and herders, as both parties needed each other and in the overall interests of all Nigerians.
On ranching, several discussants urged the federal government to take concrete steps towards the realization of the plan which was considered a critical strategy to curb the movement of cattle across the country and to yield great outputs in terms of dairy products with the help of improved breeds and modern technological knowhow.
The post USAID builds bridges between farmers, herdsmen appeared first on Vanguard News.
Tags 2014
You may also like...