Two Children burnt to death in Delta Community
By Paul Olayemi
An eight-year-old girl and her brother 11,  were on Thursday evening burnt to death in their  mother's kitchen at the Jesse Area of Delta State.
The  fire was first noticed by some group of men, who had gone to work in a building site though they raised alarm on the inferno, nobody knew the two children,  Omoyibo and Nyore were in the fire until the mother of four, Mrs Mobo Hope,  34, who had gone out, came back and started looking for her kids.
Narrating her ordeal to Saturday Vanguard,  Mrs Mobo Hope said, that afternoon she had gone to the market to buy some wares and was returning home, when a neighbour told her, her kitchen was in flames.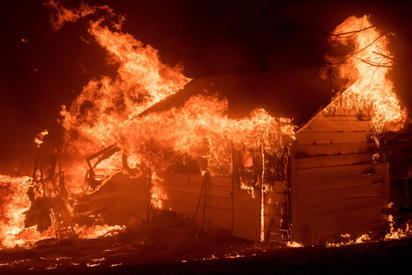 She said: "I ran home and when I got there, the kitchen was on fire. I started struggling on how to put out the fire, I was still struggling to put it out when I noticed Nyore and Omoyibo, were missing, we started looking for them and when we asked Favour, my neighbour's kid, who was playing with the children before I left and he pointed to the direction of the fire, I knew it was finished,"Mrs Hope said amidst tears.
Two other wooden kitchens sandwiched between the burnt kitchen were not touched.
Neighbours and sympathisers, who were still at shock and pained by the lost of lives have described the incident as mysterious.
When Vanguard visited  the scene,  visible burnt human parts were seen littering the floor.
The post Two Children burnt to death in Delta Community appeared first on Vanguard News.
Tags 2014
You may also like...