Troops kill 35 terrorists, 'Boko haram'
By Ndahi Marama
Maiduguri—Troops of Operation Lafiya Dole have, in conjunction with Cameroonian Defence Forces, killed 35 suspected members of Boko Haram sect.
Deputy Director, Army Public Relations, Theatre Command, Col Onyema Nwachukwu, who disclosed this yesterday, said: "Troops of Operation Lafiya Dole continued to maintain the momentum in the ongoing Operation Deep Punch II to seek out and clear Boko Haram insurgents from enclaves in the northern fringes of the Lake Chad islands and the Sambisa region.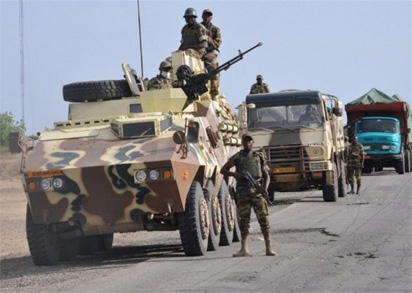 "On Monday, February 26, a combined troops of Operation Lafiya Dole and Cameroonian Defence Forces, in a clearance operation, took the battle to the terrorists in their enclaves at Kusha-Kucha, Surdewala, Alkanerik, Magdewerne and Mayen villages, all situated along the Nigerian-Cameroonian border.
"In the fierce offensives, the troops killed 33 Boko Haram insurgents and destroyed 15 locally-fabricated rifles captured from them. The troops also destroyed four improvised explosive devices, IEDs, several motorcycles and bicycles belonging to the insurgents.
"603 civilians held hostage by the insurgents were also rescued and conveyed to Bäma and Pulka towns, where they are currently being profiled before subsequent hand-over to IDP camp officials."
The post Troops kill 35 terrorists, 'Boko haram' appeared first on Vanguard News.
Tags 2014
You may also like...