The big hoax about  Obiano's disqualification
The Willie Obiano campaign organisation and APGA as a whole have spent the entire week trying to clear the mess that an online report smeared on it.
The online report purported that a Federal High Court in Abuja had given order restraining Chief Obiano from parading himself as APGA candidate in the election almost throwing the party and the campaign into disarray.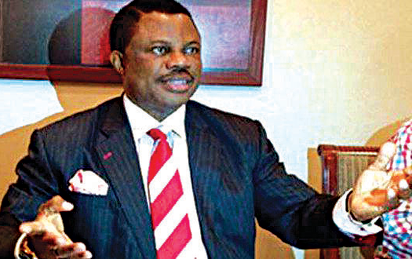 According to the report which was also latched upon by the opposition parties in many online platforms, Chief Obiano was disqualified by the motion filed by Martin Agbaso led APGA against the Victor Oye led faction which presented him as candidate.
As soon as the news which is traced to a man said to be a member of the Oseloka Obaze campaign team was released (he has since apologized publicly), APGA leaders began frantic efforts and held emergency meetings to control the damage.
APGA legal adviser Barrister Ifeanyi Mbaeri was mandated to first fly out a press release to say that Nigerians especially those who have APGA at heart and indeed voters in the coming Anambra election should disregard reports purportedly assuming that Governor Willie Obiano has been disqualified from the contest. He did so adding that "there's no iota of truth in that online report. Willie Obiano is still the authentic APGA candidate in the Anambra governorship election" he states.
In a reaction also APGA chieftain in Anambra Chief Harris Chuma during the arrival of   APGA train at Nteje, Oyi LGA headquarters said "there was never any legal restrain on Obiano. He is still in the race very much squarely. Obiano is not disqualified by any law of the land. It is handiwork of some mischief makers and detractors.
We should not lose sleep because of the antics of a former APGA member who was obviously sponsored by the opposition to cajole and deluge our members and cause them to lose morale. APGA lawyers have since offered reply. Willie Obiano won the APGA primaries and became authentic guber candidate. He cannot be halted now. I urge every APGA member to disregard the false news because he is the people's choice"
An Obiano aide on political matters   Hon Arinze Awogu also spoke in same vein saying that "this falsehood is one of the numerous that the PDP has thrown at APGA but it won't help them to win this election. The so called apology for spreading falsehood is medicine after death. PDP won't get anywhere with propaganda. I am happy that every APGA lover knows the correct thing. Obiano is still the man to beat in this election."
The post The big hoax about  Obiano's disqualification appeared first on Vanguard News.
Tags 2014
You may also like...