Stop heating up the polity, Okowa tells opposition parties
…gave breakdown of how Paris club refund was spent
By Festus Ahon
ASABA-DELTA State Government, Thursday, urged opposition political parties in the State not to heat up the polity, insisting that the N10 billion received recently from the Federal Government as the State share of the Paris club refund was used judiciously.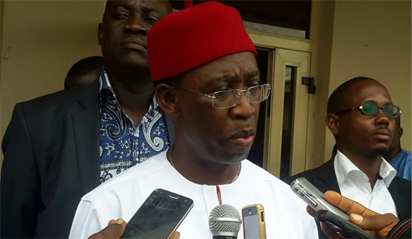 The Chief Press Secretary to the State Governor, Mr Charles Aniagwu who stated in a çhat media men in Asaba, gave a break-down of how the fund was disbursed.
Aniagwu said; "we have observed in recent times, the continued misinformation dished out by some leaders of the opposition All Progressive Congress, APC in the State, in which they have painted pictures that are at variance with the realities on ground about our projects and programmes both completed and ongoing.
"Those who have elected to politicize everything under the sun tend to have found a very fertile ground in our deployment of the second tranche of the Paris Fund Club refund even after we have offered an explanation to that effect; they have repeatedly questioned how we spent the N10bn.
"Again, we admit that they deserve to know; for the avoidance of doubt and at the risk or repeating our initial explanation, these are the breakdown: N2.1 billion was allocated to Local Government Councils For Salary Arrears and N7.9 billion was due to Delta State Government which spent N1.3 billion being 7.5 per cent of the money on Contributory Pension Arrears, N1.7 billion – deductions due to Co-operatives societies, N315 million – State Contributions to Pension for May 2016; N174 million – Restoration of BVN Issues Related Salaries; N475 million – augmentation of July 2017 salary; N300 million – part payment of outstanding arrears of past services of State Contributory Pension Scheme; N318 million – support to Local Government Councils to pay June 2017 Salaries; N3.5 billion – capital/recurrent expenditure approvals and it totals, N7.9 billion."
He said that the state government would remain committed to bringing prosperity to all Deltans, urging opposition political parties to "avoid engaging in deceptive acts that could heat up the polity ahead of the 2019 general elections but, rather, should engage in actions that will unite Deltans the more and make the state more peaceful.
"For the avoidance of doubt, we expect criticism of our programmes by anybody because it is an essential ingredient of any democratic society, but we believe that such criticisms should find a reasonable space on the track of objectivity and patriotism.
He Listed some of the achievements of the State Government in the last two years to include the "construction of over 98 roads across the three Senatorial districts, stretching to as much as 612km and still counting and line drains of over 300km, ongoing efforts at redesigning the drainage system and fast tracking the construction of deeper and expanded drainage system to check flood in Asaba and its environs."
Aniagwu said the Governor Ifeanyi Okowa's administration has established 24 new schools, adding that "in the last two years, over 6,000 entrepreneurs have been created through our job creation programmes and allied policies and the consequence of these is that over 30,000 persons now have their stories changed for the better; these individuals who have become creators of employment dot the 25 local government areas and are always within reach for anyone who wants to ascertain the veracity of our claims."
The post Stop heating up the polity, Okowa tells opposition parties appeared first on Vanguard News.
Tags 2014
You may also like...