Sambisa Forest has become too hot for Boko Haram, says Lai Mohammed
Buhari govt rescues 30,000 people from Book Haram
By Joseph Erunke
ABUJA-THE federal government said Tuesday that it has secured release of 30,000 people from the grip of Book Haram terrorists in less than three years of its assumption of office.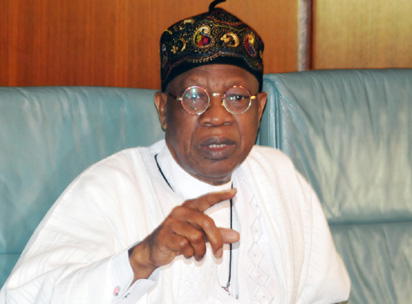 The government said of the over 200 school girls abducted by the terrorists in the last administration, over 100 have since regained their freedom through its intervention, saying it was working towards seeing the free release of the remaining others.
Minister of Information and Culture,Alhaji Lai Mohammed, said this in his opening remarks at this public presentation of the Policy Framework and National Action Plan for preventing and countering violent extremism,organised by the Office of the National Security Adviser,in Abuja.
"The record of success is there for all to see: At least 30,000 hostages kidnapped by Boko Haram extremist group, including women and Children, have been rescued by the military. More than 100 Chibok girls have so far been rescued.
"The government is committed to the safe return of the remaining Chibok girls while rehabilitating and reuniting them with their families and communities," he disclosed.
Mohammed said Sambisa Forest has become too hot for Boko Haram and they are now escaping to neighbouring communities. Boko Haram is no longer able to carry out organized attacks. They hold no territory and their flag, which they were flying in Bama and other territories they used to occupy, has become a shroud,"he added.
He said the challenge left for government at the moment was to develop the strategies to counter the dangerous ideologies and messages being peddled by the extremists,adding the "Federal government is not unmindful of structural conditions that make an environment conducive to the growth of violent extremism, such as unemployment, poverty, lack of education, corruption, and other social-economic factors."
" Through various policies and programmes of this administration, these structural conditions are being addressed on a daily basis,"he said.
According to him,"the Anchors Borrowers programme has created over 6.3 million jobs for farmers through rice farming."
" Equally significant, the federal government has served no fewer than 246.4 million meals to primary school pupils across 20 states under the National Home Grown School feeding Programme (NHGSFP) to encourage children enrolment in schools.
" According to a widely reported recent survey, no fewer than 10.27 million children have been enrolled into public primary schools in the North West and North Central Zones of the country in the last one year, representing an increase of 20 per cent in some of the states.
" This was attributed largely to the school feeding programme. Development programmes like the school feeding scheme are at the heart our effort to prevent violent extremism."
He spoke further:"Also, the N-Power programme of the Federal Government has engaged and deployed over 200,000 young Nigerian to public primary schools, primary healthcare centre, and in agriculture development project centres across local government areas in the country. This is with a view to helping build community resilience against violent extremist group. That number is set to increase by 300,000 this year.
" Government is also taking a bold step to address the issue of recharging the Lake Chad Basin, which has shrunk by 90% between 1963 and now. The Federal Government, through the Ministry of Water Resources, is organizing an International Conference on Lake Chad later this month, in order to come up with holistic plan on the Lake Chad, which has impacted negatively on the livelihood of the people
that depended on it for farming activities.
"As part of its soft approach in tackling security challenges, our administration is engaging in dialogue with different key stakeholders in order to find possible and lasting solutions to the issue of herder-farmer conflicts, which is one of the security challenges we face today."
While applauding the media for the roles it has played in the defeat of Book Haram,Mohammed advised Nigerians to engage in a responsible use of the social media "so it doesn't become a platform for spreading fear, hatred and violence, which are capable of tearing apart any
society."
In his keynote address at the occasion, the National Security Adviser,NSA,Alhaji Babagana Monguno,noted that on, the National Security Adviser,NSA,Alhaji Babagana Mungono regretted that
"violent extremists, riding on misconceptions of religion, prolonged unresolved conflicts, structural and governance challenges, perceptions of injustice, have committed untold abuses and violations of human rights and the rule of law."
According to him,Boko Haram has conscripted young boys into their ranks, abducting school girls and killing everyone, irrespective of tribe or religion.
He recalled that: " Growing up in Nigeria, we knew only the harmony that existed between the different tribes and religions. Climate change, ethno-religious conflicts, herder-farmer conflicts and bad politics combine to present imminent security challenge for all Nigerians."
" We are taking steps to strengthen our Law Enforcement and Security Agencies in dealing with these threats to national security. Government will not work in isolation. We require research, community engagement, involvement of the Civil Society and all stakeholders to play key roles in building a peaceful and secure country,"he added.
The NSA said "across the Lake Chad, we are also working with our neighbors to address common challenges."
He spoke on the essence of the event:"In 2015, following the transition, we reviewed Nigeria's efforts in Countering Violent Extremism. The review informed the need for a complementary, Whole-of-Society Approach in dealing with terrorism. We also realized that in line with the President's focus on transparency, accountability and the rule of law, we needed to build a Policy framework that will ensure institutionalization and mainstreaming of preventing and countering violent extremism across Ministries, Departments and Agencies of Government.
"While we were taking these steps, the then United Nations Secretary General, Mr. Ban Ki Moon, in December 2015 issued a call to member states to also develop National Action Plans to prevent violent extremism. Nigeria is one of few countries in the world that have developed the Policy Framework, which we showcased on the Sidelines of the United Nations General Assembly held in September 2017, in New York."
The post Sambisa Forest has become too hot for Boko Haram, says Lai Mohammed appeared first on Vanguard News.
Tags 2014
You may also like...