S-WEST ECONOMIC INTEGRATION: Nyiam carpets Fashola, endorses Ambode's stance
By Gbenga Oke
Lagos—Colonel Tony Nyiam (retd) a principal actor in the failed Major Gideon Orkar led coup against the military regime of Gen. Ibrahim Babangida in 1990, has slammed southern stake holders in the ruling APC, especially former governor of Lagos and current Minister of Works, Power and Housing Babatunde Fashola, for behaving like surrogates, while praising Ambode for his efforts in the region.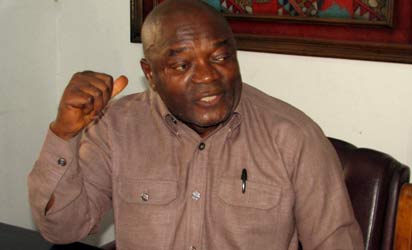 Nyiam said this in an interview with newsmen in Lagos recently. He knocked Fashola for not showing any interest in the development of the south-western region when he was governor of Lagos.
His words: ''When Fashola was in office, he was never interested in anything that had to do with the Oodua Investment. This is why there is a breath of fresh air, now that his successor is pioneering the South-west integration agenda believing that the prosperity of Lagos should be spread to neighbouring states.
''This is not just altruistic but makes economic sense because if you allow Lagos to invest in Osun, Oyo, Ekiti, Ondo and and Ogun, it will make these states  more viable and the economy of the region the  better for it."
Nyiam also hailed Ambode for not only showing serious interest in the south-western integration the way late Obafemi Awolowo did in his own time, but also committing a lot in terms of energy and resources to the course.
When asked if he believes that economic restructuring can start with the agitation for political restructuring as it is being canvassed, Nyiam said: "Reason some of us are interested in Ambode's example is that it will kick-start same thing in other regions. It is high time the South South, South-east and the Middle belt governors take after Ambode's example and ensure that their regions are transformed by pursuing regional integration.
"I am mentioning Ambode because he is beginning to do what some of us have been advocating; that while most of us are fighting political restructuring, economic restructuring can begin and there is no better example than the economic self determination example, which Lagos is setting," the retired Colonel said.
The post S-WEST ECONOMIC INTEGRATION: Nyiam carpets Fashola, endorses Ambode's stance appeared first on Vanguard News.
Tags 2014
You may also like...