Release Elombah or charge him to court immediately, coalition tells IGP Idris
By Joseph Erunke
ABUJA-A coalition of Nigerian professionals both within and abroad, under the aegis of The Nigerian Roundtable Coalition, has condemned in strongest terms last week's arrest of Timothy Elombah, publisher of elombah.com, an online publication,and his brother, Daniel, by some operatives of the controversial Anti-Robbery Squad, SARS, of the Nigeria Police Force.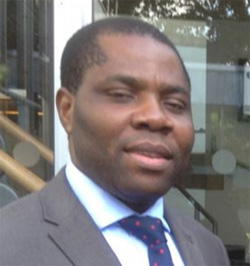 The organization said it was worried that one week after the arrest, the police has failed to either release the Timothy Elombah or prefer charges against him in competent court of law.
To this end, it demanded an immediate and unconditional release of the foreign based Nigerian journalist cum lawyer by the Inspector General of Police, Ibrahim Idris, who it accused of giving the arrest order.
The Nigerian Roundtable Coalition, in a strong worded statement early Monday, signed by Abimbola Kumapayi Esq., Maazi Tochukwu Ezeoke and Charles Omorodion respectively, said the demand was a fallout of the group's emergency meeting in London, United Kingdom, at the weekend.
"The Nigerian Roundtable Coalition, a coalition of Nigerian Professionals in Nigeria and the Diaspora arose from its emergency meeting in London, condemns in strongest terms the unlawful arrest of Daniel, Tim, and Izuchukwu Elombah by the SARS operatives which was directly ordered by the Nigeria Inspector General Of Police on a libel allegation unconnected to any form
Robbery or criminal matter.
"We demand an immediate and unconditional release of Tim Elombah or prefer the charge against him before a court of competent jurisdiction. The Nigeria Police must learn to investigate cases before engaging in illegal arrest of private citizen.
" We submit that the arrest of Daniel, Izuchukwu, and Tim Elombah on 1st January, 2018 by men of SARS from their country home in Nnewi, Anambra State is condemned in its entirety.
"Its a fragrant show of force, disrespect to sanctity of human rights and rule of law under UN Charters on Human Rights as well as abuse of police powers and processes.
"The SARS and its collaborative agencies have demonstrated once more nothing but act of "hooligalism in uniform" and a complete dereliction of duty, as well as misinterpretation of Nigerian constitution and the enabling Act under the enforcement codes, "the statement read.
The statement read further:" There has been a revisit of Python dance 3 as Daniel was arrested illegally and gagged under armed guards and man-handled.
" The above has further reinstated the fear that life and property are no more secured under this current government as the Elombahs were hurled into a waiting vehicle while their wives, kids and siblings watched in shock, as they were later taken to SARS office in Abuja later same day. "
'We therefore call on all Nigerians, the civil societies in Nigeria and in the diaspora, members of the international bodies and those of the diplomatic corps present in Nigeria to rise up against the injustice and sudden state of gestapo policing by Nigerian state authorities, "it further said.
The post Release Elombah or charge him to court immediately, coalition tells IGP Idris appeared first on Vanguard News.
Tags 2014
You may also like...