Quit notice to Igbo: Arewa youths can't fool us with withdrawal — Niger Delta agitators
By Levinus Nwabughiogu
…Say call for Nnamdi Kanu's re-arrest laughable
ABUJA—Niger Delta agitators, yesterday, described the withdrawal of the quit notice issued to the Igbos resident in the North by a coalition of northern youth as an attempt to hoodwink Nigerians.
They said that it was also laughable to announce the withdrawal alongside a call to revoke the bail conditions of the leader of the Indigenous Peoples of Biafra, IPOB, Nnamdi Kanu.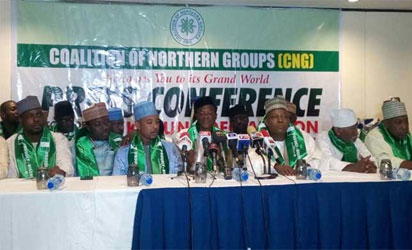 Rising from a meeting where they evaluated the developments, the agitators rejected the withdrawal of the notice in its entirety.
They also accused the Federal Government and the northern governors of conniving with the Arewa youths in issuing the Igbo quit notice.
In a statement after the meeting, the agitators maintained their earlier stance which demanded the departure of northerners and Yoruba of the South West from the Niger Delta region before October 1, 2017.
Those who signed the statement included General John Duku (Niger Delta Watchdogs and Convener, Coalition of Niger Delta Agitators); General Ekpo Ekpo (Niger Delta Volunteers); General Osarolor Nedam (Niger Delta Warriors); Major-Gen. Henry Okon Etete (Niger Delta Peoples Fighters); Major-Gen. Asukwo Henshaw (Bakassi Freedom Fighters); Major-Gen. Ibinabo Horsfall (Niger Delta Movement for Justice); Major-Gen. Duke Emmanson (Niger Delta Fighters Network); Major-Gen. Inibeghe Adams (Niger Delta Freedom Mandate) and Major-Gen. Ibinabo Tariah (Niger Delta Development Network).
The agitators also insisted that all oil blocks in the coastal area given to a former President, former military heads of state, amongst other personalities should be returned to them.
They also reiterated their resolve to resume attacks on all oil installations from September 10 and warned all onshore and offshore workers to leave the area.
They said: "The recent gathering of the Arewa Youths in Transcorp Hilton, Abuja to announce the suspension of the quit notice issued to Igbos in the North is one action that glaringly shows that government and security heads from the North were the brains behind the earlier announcement.
"It is laughable that the Arewa Youth group thinks it can fool the rest of Nigerians, particularly those of us in the Niger Delta part of Nigeria, by replacing the quit notice with call for the arrest of Nnamdi Kanu."
Today the Federal Government has met-up the demand of the Coalition of Northern Youth Groups by filing a motion in court to revoke Nnamdi Kanu's bail."
The post Quit notice to Igbo: Arewa youths can't fool us with withdrawal — Niger Delta agitators appeared first on Vanguard News.
Tags 2014
You may also like...