PROF MADUKA: Village boy, who stooped to conquer
PROF. Godwin Maduka narrates how he used the powerful weapon of education, to launch himself on the global stage from his remote village of Umuchukwu in Anambra State. His journey to significance from a village boy, who experienced many deprivations, was such that was strongly energised by his determination to finish strong. Having been blessed by God in inestimable measures, The CEO and Medical Director of Las Vegas Pain Institute & Medical Centre, is giving back to the society in unrivalled ways. His profile speaks volumes about this personality.
ON background   I was born in Umuchukwu in Orumba Local Government Area. I grew up in the village.  I had a good taste of village life and all sorts of denials that go with it. I wasn't born with a silver spoon. I had been in desperation before. My father died when I was in my last year in high school. I used to climb palm trees, to pick nuts that will be turned into palm oil.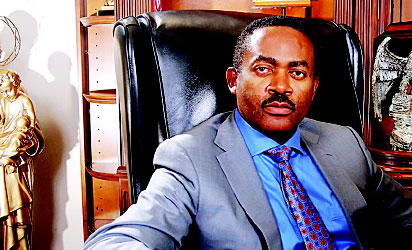 These, I would carry on my head and trek eight miles to Umunze to sell.  While growing up as a child I always asked God to use me as a source of light and joy to my people. I have always had this idea that whenever I am blessed by God that I will improve the lot of my people by investing in education, places of worship, supermarkets.
Since my childhood in Orumba, we had always travelled to places like Aguata to even feel any kind of government presence. We went as far as that, to participate in things like inter house sports. In those days there was no transportation, we had to go on foot.
Growing up I saw those hardships and 40 years later, our people are still facing these hardships in order to feel government presence. The government of Anambra should realise that my people of Orumba have been marginalized for years in terms of government infrastructure. That is why people like me have been in the forefront to provide these amenities.
On basic things
Having lived in the US for almost 40 years and always going back home on visits, I found out that the same old structures were still the best my people live in. The living conditions of my people sometimes brought me to tears.
So, I started with the basic things like roads and providing homes for the less privileged, especially the widows. Many were living in thatched houses in deplorable conditions. I also saw the need for my people to be educated instead of being mostly traders and farmers without basic education.
I started with those things. Then in the area of worship, we did not have even a parish, we had to go to another town's parish because Umuchukwu could not afford to build a parish. It was the same with Anglican, Catholic and even non-denominational.
You are also known to have provided amenities that were supposed to have been provided by government at all levels. It's really amazing that apart from building churches, you also built Police Stations and courts. Tell us more about that!
What really brought me to the area of justice and security, was an experience I had. It was in the year 2000 when there was a communal crisis in Orumba, between Ogbunka and Owerri-Ezukala, our neighboring towns. There was also a crisis in our town Umuchukwu, to the point that my uncle, the Igwe was kidnapped.
There was also the problem of high incidences of armed robbery. We live in an area that is bordered by both Abia and Imo states. That puts us in a position where we can experience high-level crimes. The picture I just painted motivated me to think of security, because our people lived in constant fear.
I had the opportunity to be granted the permission to build a Divisional Police Headquarters by the then Inspector General of Police, Mr. Mike Okiro in Orumba, which is a big facility. By that time we had one in Umunze, but because of the distance, it was easy for mayhem to be caused before the police could reach our town. This was the reason for building the Divisional Police Station in Umuchukwu to serve the town and others around it, like Owerri-Ezukala, Ogbunka, and others in Orumba.
There was an issue of a magistrate court which motivated me to build one. The one in Umunze was always filled up with cases, making it hard for a lot of judicial matters to be dispensed within a record time. We mobilised and had a Chief Magistrate Court erected. With the offices of the Police and Special Anti-Robbery Squad (SARS) as well as the Civil Defence Corps all erected around the Chief magistrate court, the incidences of armed robbery in the area drastically reduced. I can boldly say that there is peace in Orumba now.
We kept hearing about the issue of low number of High Courts in Anambra State as a reason for slow justice dispensation. Also seeing the conditions of the high courts in Awka, Ekwulobia and others, we took up the challenge of partnering the government of Anambra State to erect a befitting High court, in order to make speedy dispensation of justice available to our people in Orumba. Upon the judgment of the Appeal Court which resolved the crisis in Umuchukwu, we were granted the permission to join hands with the administration of Governor Willie Obiano to erect the high court in Orumba, to service that part of Anambra State. We have the letters of approval for the community and I went ahead to build one. The prototype was given to us along with the letter of authorization by the state judiciary.
In this clime people, who do the things you have done are mostly motivated by personal interest, especially political interest. What really motivates you?
I want to be remembered as the young man who rose from the hinterland in Africa.  I look at Kwame Nkrumah and Nnamdi Azikiwe, two pan African heroes, who travelled to the US and got the wherewithal to make their homelands better places. I keep thanking God who has given me this opportunity to make a change in Nigeria and Africa. I don't really see what would change in what I am doing now if I take up any political appointment. I do not want to be distracted from doing what I am doing presently, especially in Anambra State. So the governors, commissioners, politicians can continue doing their work, but the best thing they can do for us is to make it easy for us to assist them.  This is just the beginning. I am bringing the excellent education I obtained from the US to Nigeria. That is why I have built the 17-storey medical research centre in Nigeria, about the tallest in Africa. This encourages a lot of experts to come to Africa since they can see something tangible on the ground. I don't believe people elsewhere in the world are better than we Africans. I also believe that whatever we do in this world is not only to be of benefit to us. We should always look around and see how we can be of benefit to the less privileged people and make our community a better place. That is the ultimate purpose of living. When someone, who does that die, he will die happy, knowing that he is leaving a lasting and beneficial legacy.
You have obviously excelled in the field of medicine. Do you consider yourself a fulfilled person?
My worth cannot be quantified in terms of numerical value. I don't look at my life in terms of numbers.  I feel that what the almighty God has helped me to do, there is no monetary value to it. I am even bigger than what people think I am. I am happy when I give someone a car or when I build a house for someone, or when I buy a motorbike for a young man or when I pay school fees for those, who cannot afford education. I have trained so many people that I can't even remember their names, even in America. I feel am the fortunate and privileged one God is using to be a joy giver to many. I am very lucky to have the opportunity to do these things.
What inspired the building of a 17 storey facility for the medical research in Nigeria by you?
First, I have not seen a country like the United States, I thank God Almighty for bringing me here. I am a naturalized American citizen, born in Nigeria. Having had the benefit of both countries, I am also giving back here. I provide employment, I help people get educated, here in the US and back home in Nigeria. I have three professorships and teach doctors and medical students alike.
I have seen the worst and the best. I consider my life a fairy tale I intend to use what we already have on the ground there to partner with international organisations and foundations, to site one of the best citadels of learning in Africa, with a special bias for the sciences and medical education.
On healthy family
I am an African, and I strongly believe in healthy family life, as a father of five. I usually get involved with my children's activities. I enjoy playing the role of a father. I always tell my kids that before I started having children, I had been a father to many, through mentoring of young people both in the US, in Nigeria particularly and Africa generally. This makes me happy, especially when they take my advice and I look forward to them becoming better than me. I have immense faith in God. I believe that whatever I ask God that will be beneficial to other people; he will do it for me. I believe we should treat others as we would like to be treated. I spend a lot of time in meditation. My best moment is when I am in the church, especially on Sundays when I take my family to church.
I also enjoy communicating with God; I feel happy and secure dedicating time to my maker. Spending time with my family and with God is how I relax. I have this hunger to change the way things are in my immediate community.
Was there an agreement between the state government and you before building some of those structures for its usage?
There was never any issue concerning the building of the high court. All due processes were observed and relevant approvals were given before we embarked on the building. I have lived in United States for a greater part of my life.  So it is good to do things right by adhering to the world best practices. It was very capital intensive, costing millions of dollars. At a point, we were even re-evaluating it, but because of the enthusiasm and the need to reduce the suffering of our people, we went ahead to complete the project within a year. The Chief Registrar of Anambra Judiciary was a constant visitor to the site, to evaluate the work being done. After completion of the high court premises, another prototype was made available to us for the construction of the judge's living quarters- an 8 room mansion, fully air-conditioned, including visitor's lodge and boys quarters, borehole, electricity, security post etc.
First, I want to unequivocally state that I don't have any issue with the Governor or the chief Judge of Anambra State, I am amazed that the facility is still lying fallow, I did not know who the Chief Judge was except when this question of the high court in Anambra came to some of us. He made that call for people and communities to help build courts and the Governor also made the call for Ndi Anambra across the world to come home and invest as well as assist the government. And since I was a child, growing up in Orumba, our people have always been going as far as Ekwulobia, Awka, Nnewi, Enugu and other places for high court cases. That is why, through my lawyer, we went to him and proposed that we put up a high court. After the first meeting, I was informed by my lawyer that there seem to be a crisis in Umuchukwu that needed to be resolved before the permission for this high court building would be granted. We finally completed the building in conjunction with Anambra State government, under Governor Willie Obiano, who commissioned the project in December 2016.
After the commissioning, I was back in the US and to my bewilderment; the court was not put into use months after commissioning. So, I got in contact with the Chief Judge of Anambra State, Justice Umeadi, through Frank Offor, who is the State Commissioner for Urban Development and Housing, who is also an indigene of Orumba. I had a good conversation with the Chief Judge who assured me that there was no problem, that the high court will be put to use.  My pain is that my investment is rotting away, recently I heard that some of the furniture are being attacked by rats. I work so hard to make this money. I see it as an act of injustice to humanity for this to happen. A lot of stories are going around the mills about some individuals frustrating the effort of the Chief Judge in starting court proceedings in the high court. I want other well-meaning Ndi-Anambra worldwide to tell the Governor and the chief judge to please put the court to use, because this attitude will discourage others with similar intentions.
What is the reaction of the people of Orumba concerning this High Court that has not been put to use since it was commissioned almost a year ago.
To be honest with you, I have lived in the US for close to 40 years now, I have never encountered anything like this. Never have I imagined that one would answer a call to help develop his community, spend millions of dollars and the project will just be left to waste like this, because of a few individuals interest. The whole complex and quarters are fully furnished and built by engineers from Nigeria and other parts of the world. The people of Orumba and other Ndi Anambra are very angry with the situation on ground. I am always bombarded with phone calls, asking me what grudges do you and the Chief Judge have that is causing the high court not to be used after all this time. I keep telling them that this court does not belong to me anymore, I have handed it over to Anambra State government.Personality Ethics
*Making the world a better place is the ultimate purpose of living
* I feel happy and secure dedicating time to my maker
* We should treat others as we would like to be treated
The post PROF MADUKA: Village boy, who stooped to conquer appeared first on Vanguard News.
Tags 2014
You may also like...