Prioritization of personnel welfare crucial to win insurgency fight- NAF
The Chief of the Air Staff (CAS), Air Marshal Sadique Abubakar, has reiterated the commitment of the current Nigerian Air Force (NAF) leadership to improving the welfare of NAF personnel, particularly those participating in the ongoing counterinsurgency operation in the Northeast and other Internal Security operations across the country.
The CAS gave the assurance yesterday, 12 January 2018, while commissioning some additional residential accommodation at the NAF Base, Bill Clinton Drive, Abuja. According to him, the prioritization of personnel welfare is crucial to the sustenance of their morale in an effort to effectively address the current security challenges in the country.
Air Marshal Abubakar, who was represented at the occasion by the Chief of Administration at the Headquarters NAF, Air Vice Marshal Mahmoud Ahmed, stated that personnel welfare and other logistics requirements would continue to receive priorities within the limited available resources. He also expressed his belief that this would further motivate personnel and enhance their combat readiness.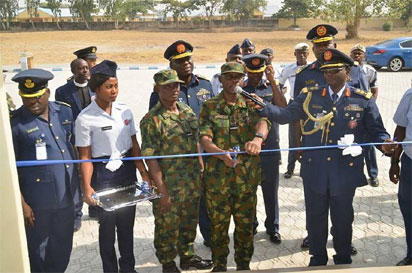 "These projects on the Base attest to our resolve to react to the dynamic nature of personnel needs for accommodation, as we have undertaken similar projects here on several occasions in the past two years," the CAS said.
The modest achievements he said would not have been possible without the blessing of the President and Commander-in-Chief of the Armed Forces, Muhammadu Buhari, who he said has been constantly supporting the NAF.
The newly built accommodation, which includes a block of 6 units of 2-bedroom flats transit quarters for commissioned officers and another block of 18 units of 2-bedroom flats for non-commissioned officers were named after late Group Captain Usman Danliti Abubakar and late Flight Sergeant Bolorunduro Raphel respectively.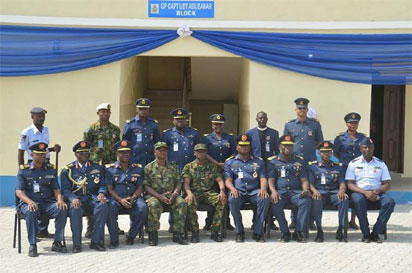 This was done as a mark of honour to immortalize the 2 late NAF personnel who died while actively serving the nation.
It is recalled that late Group Captain Abubakar died as a result of an aircraft accident in May 2009 during a training mission in Rigachukwu, Kaduna while FS Bolorunduro was killed in action during Operation ZAMAN LAFIYA in the Northeast. The ceremony also witnessed the presentation of keys to some of the beneficiaries of the new accommodation.
The post Prioritization of personnel welfare crucial to win insurgency fight- NAF appeared first on Vanguard News.
Tags 2014
You may also like...