President Buhari best candidate for 2019 – Ex LG boss
Minna – Alhaji Ahmed Dogara, former Chairman, Chanchaga Local Government Area of Niger, has said that President Muhammadu Buhari remains the best candidate for 2019 election in all the registered political parties.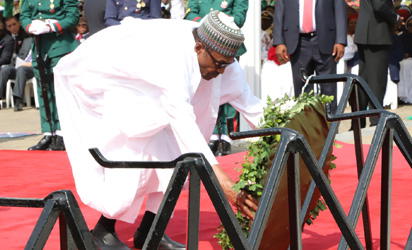 Dogara made this assertion in an interview with News Agency of Nigeria ( NAN) in Minna on Tuesday.
He said that there was no any presidential candidates among the registered political parties that could match the credibility of President Buhari at this material time.
"President Buhari has proved beyond reasonable doubt to be honest, sincere and committed in meeting the desire needs of Nigerians irrespective of tribe, religious, ethnic and political differences."
The former council chairman said that the present administration has done creditably well in the fight against corruption, insurgency, militancy and cattle rustling.
He explained that the Buhari administration within the past two years, had recorded some achievements in the area of economy, improved electricity supply and diversification of the economy through agriculture and solid minerals.
"Nigerians are happy with the measures the government is taking in the diversification of the economy, which are already paying off, especially in the agricultural and mining sectors.
He called on Nigerians to be patient and support the effort of the present administration in its delivery of dividends of democracy and political change mantra.
"We will continue to mobilise grassroots politicians to support the laudable policies and programmes of President Buhari for peace, progress and political stability in the country.
He said that majority of Nigerians have confidence in the President's honesty or ability to lead the nation and to fight corruption and defeat insurgency. (NAN)
The post President Buhari best candidate for 2019 – Ex LG boss appeared first on Vanguard News.
Tags 2014
You may also like...