Presidency, Enyimba mourn late Udoji
The Presidency and Enyimba International have mourned the death of defender, Chinedu Udoji who passed on in the wee hours of Monday.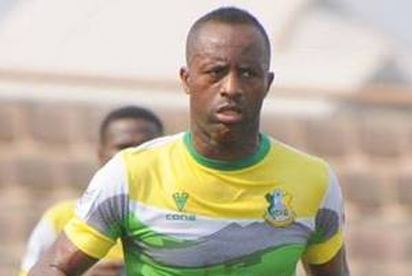 Udoji who captained Enyimba for five years, was until his death, playing for Kano Pillars FC.
The Chairman of the People's Elephant, Felix  Anyansi-Agwu, in a statement in Lagos described Udoji's death as untimely.
Anyansi-Agwu said that the contributions of Udoji to the team during his time with the club was commendable, adding that he was a leader both on and off the pitch.
"Words cannot convey either the depth of our pain or the intensity of our anguish over the death of Udoji.
"What we can do in this hour of sadness, however, is to pray to God to strengthen the family he left behind, the teammates he so passionately inspired and his friends and fans.
"Udoji joined our club in 2009 and captained the club for five seasons before his departure in 2016 to Kano Pillars.
"He was a ferocious captain and leader on the pitch but warm and gentle friend off it. During his time in Aba, he won two league titles and two Federation Cups.
"He also helped the team to reach the semi-finals of the Champions League. A legend worthy of the Enyimba captaincy, he will remain in our hearts forever,"
Similarly, the Presidency is in mourning too. According to President Muhamadu Buhari's Personal Assistant on New Media, Ahmad Bashir, the nation's number one citizen expressed sadness over Udoji's death.
Bashir described Udoji as one of Nigeria's finest players.
He tweeted that, "So sad. He was one of our finest players. Condolences to his family, Kano Pillars Management, their fans and all football lovers. #RIPChinedu"
NFF, LMC, Adepoju  rue  Udoji's death   P,46
The Nigeria Football Federation (NFF) and the League Management Company have rued the death of defender Chinedu Udorji.
NFF, through its twitter handle @thenff tweeted that,  "The demise of @pillarsfc defender Chinedu Udoji comes as a rude shock to us this morning. Our thoughts and prayers are with his family and club. May his soul rest in peace. #RIPUdoji."
Also, the League Management Company (LMC) tweeted that "GONE TOO SOON, We are deeply saddened by the tragic death of one of NPFL's finest defenders. Our thoughts and prayers are with Chinedu Udoji's family, Kano Pillars & #NPFL clubs #RIPUDOJI."
Also, Enugu Rangers through @RangersIntFC said, "The management of Rangers sympathise with @pillarsfc & Family Of Chinedu Udoji on the death of the player in a tragic car crash."
Meanwhile, former international, Mutiu Adepoju in his tribute to the late defender through @MutiuAdepoju8 said, "My fingers shiver as I type my tweet… Rest on Chinedu Udoji, may God grant you eternal rest."
The post Presidency, Enyimba mourn late Udoji appeared first on Vanguard News.
Tags 2014
You may also like...