Poll shows most Americans want to keep racism-tainted statues
A new poll Thursday showed that most Americans favor leaving in place statues of Civil War figures associated with the defense of slavery, offering a measure of support for President Donald Trump's stance on the issue.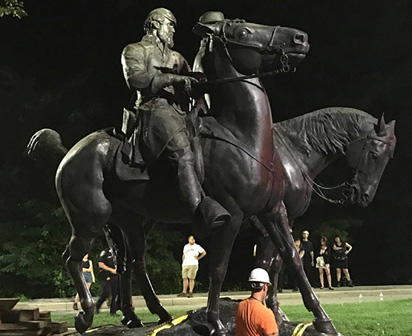 Days after a violent rally by right-wing groups to protest removal of a statue of Confederate general Robert E. Lee in Charlottesville, Virginia, the NPR/PBS NewsHour/Marist poll found that 62 percent felt the statues should remain as historical symbols.
"Just 27 percent said they should go," said NPR. And, in a striking breakdown, 44 percent of African Americans agreed the statues should stay, against 40 percent who said they should be removed.
Located mostly in the southeastern United States, there are some 1,500 symbols of the pro-slavery Confederacy which fought and lost a war to secede from 1861-65. An estimated 750,000 people, or more than two percent of the US population at the time, were killed in the conflict.
The monuments, as well as the names of many roads, schools, and public buildings, mostly celebrate Lee, the leader of the Confederate forces; Jefferson Davis, the president of the Confederacy; and General Thomas "Stonewall" Jackson, one of Lee's top commanders.
In the poll of 1,125 people nationwide, Republicans overwhelmingly supported keeping the statues in place, with only six percent in favor of removing them.
But Democrats were almost evenly divided: 47 percent favored pulling them down, while 44 percent support leaving them in place for history's sake.
The poll appeared to lend support to Trump's controversial stance on the issue.
"Sad to see the history and culture of our great country being ripped apart with the removal of our beautiful statues and monuments," he tweeted Wednesday.
The post Poll shows most Americans want to keep racism-tainted statues appeared first on Vanguard News.
Tags 2014
You may also like...