Photos: Lai Mohammed visits Offa
The Minister of Information and Culture, Alhaji Lai Mohammed, has assured that the Federal Government will leave no stone unturned to
ensure better security for all Nigerians.
The Minister gave the assurance on Sunday when he paid a condolence visit to the traditional ruler of Offa in Kwara State, Oba Mufutau
Gbadamosi, following the recent deadly armed robbery attack in the town that left 17 people, including 9 policemen and 8 civilians, dead.
"We will learn the necessary lessons from this dastardly attack and factor them into developing a better security architecture for the
country to ensure the safety and security of the people of Offa and indeed all Nigerians," he said.
Read more at Offa robbery: FG vow to arrest those behind killings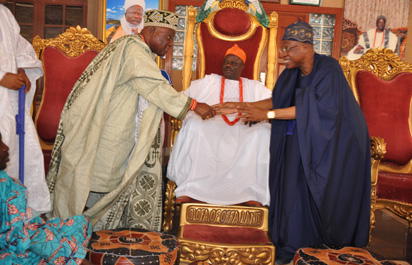 L
The post Photos: Lai Mohammed visits Offa appeared first on Vanguard News.
Tags 2014
You may also like...