PDP condemns Presidency, APC over alleged illegal importation of military equipment
…Demands public probe of Gov. Bello's alleged involvement
By Dirisu Yakubu
ABUJA-The Peoples Democratic Party (PDP) has said the linking of the alleged illegal importation of military equipment to the All Progressives Congress (APC) interests, particularly in Kogi State, is revealing and calls to question the integrity of the ruling party.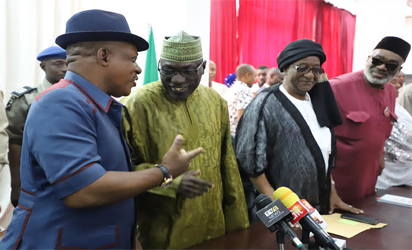 The party said Nigerians have been wondering how weapons and other military equipment got into the hands of marauders, who have been ravaging the nation, adding that this 'discovery' could offer a clue to some unanswered questions the people have been asking.
It also expressed fears that the development could be part of the alleged plot by the APC to compromise the nation's security system, preparatory to the intimidation of voters in the 2019 general elections.
The PDP in a statement by its National Publicity Secretary, Kola Ologbondiyan, on Saturday further tasked the Presidency and military high command to immediately explain how the Kogi State governor, Yahaya Bello allegedly secured the permission to import military equipment, which function is exclusively under the watch of the Presidency and the military.
The statement read: "From the reports so far, it appears that we are now having a clue on how weapons and other military equipment being used by marauders and criminals to ravage and murder our citizens, are illegally sneaked into the country and by which interest.
"Nigerians now know that some persons and officials linked with APC interests have been playing roles in compromising the security of our nation by smuggling in military equipment for unknown groups ostensibly to carry out evil activities.
"We hold that this is a very critical matter and as a pro-people party committed to the well being of Nigerians, urge the Presidency and the military to quickly offer explanations to Nigerians on who issued the end user certificate for the importation of the said military equipment into our country.
"The PDP demands an open forensic investigation so that Nigerians will know the truth. Nigerians need to know where the military gadgets were sourced from and who purchased them? They need to know who issued the end user certification for the importation and, if they are not for the military, who the actual end user is and the intended final destination."
The party also demanded "an open inquest into the alleged involvement of Governor Yahaya Bello and his aides in this matter."
The post PDP condemns Presidency, APC over alleged illegal importation of military equipment appeared first on Vanguard News.
Tags 2014
You may also like...