O'Neill evokes Euro 2016 spirit for Ireland
Ireland manager Martin O'Neill has urged his players to remember their Euro 2016 playoff victory over Bosnia ahead of Tuesday's World Cup showdown with Denmark.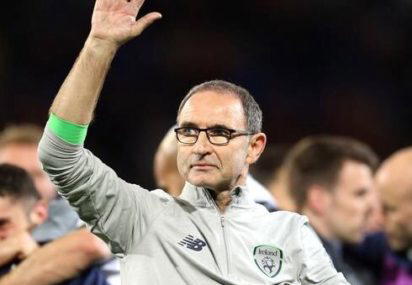 The Irish drew the first leg of the November 2015 double header in Bosnia, but progressed to France after a convincing 2-0 home win at Lansdowne Road.
After Saturday's scoreless draw in Denmark, Ireland need to beat the Danes on Tuesday to qualify for Russia next year, and O'Neill hopes the full house in Dublin can inspire the team to yet another playoff success.
"We've had the experience of a couple of years ago almost to the day," said O'Neill.
"The evening in Dublin was really fantastic against Bosnia.
"I think some of the players can draw on part of that but I think they'll probably try to create their own experiences.
"The crowd have been important at all the matches at the (stadium) and they've given us phenomenal support.
"We'll try and be a bit more expansive if we can but we've got to find a way to win a match. These players have been able to do that the last couple of years."
Denmark, hoping to qualify for their first major tournament since 2012, will look to Tottenham's Christian Eriksen to spearhead their challenge.
Ireland can count on the return of experienced captain David Meyler after the Cork-born Hull City midfielder was suspended for the first leg.
– Score or go out –
The Irish have been more impressive on the road than at home during the World Cup qualifying campaign, with wins in Austria and Wales crucial to their second-place group finish.
But now they need to win at home, with Denmark aware that a score draw would be enough to book their place at next summer's finals.
And O'Neill said the short turnaround held no fears for his squad.
"I think that this turnaround is nothing new to ourselves or our opponents," O'Neill said. "Three days, it's the format now.
"You've got two games in relatively quick succession when you play international matches. The players are ready to go one more time.
"We may need a couple of goals in the game because to keep out Denmark for two games might be tough."
If neither side manage to break the deadlock after extra time, penalties await — and O'Neill said his men have been preparing for such an outcome.
"We practised penalties, some of the lads were practising… it's on the evening, isn't it? That's the most important thing," he said.
"I remember that great (European Cup) final between Liverpool and Roma in 1984. A couple of great Brazilian players, the best players in the world, downed tools and didn't take a penalty.
"At least we have people who want to take them and I think that's half the battle.
"I think you have to have to cover all eventualities. It only takes a second to score a goal.
"The minute a goal is scored in a game that eradicates a lot of things; it eradicates extra-time, penalty kicks and things like that. We may need a couple of goals in the game as well too because to keep out Denmark for two games might be tough."
AFP
The post O'Neill evokes Euro 2016 spirit for Ireland appeared first on Vanguard News.
Tags 2014
You may also like...