Okpokwu killings: Benue elders caution FG against inflammatory remarks
… Vow to resist move to declare state-of emergency
… Say Exercise Cat Race deceptive
By Luminous Jannamike
ABUJA – Leaders of the three main socio-cultural organizations in Benue state, on Thursday, cautioned top government officials and service chiefs against making inflammatory remarks that are capable of causing further killings in the state.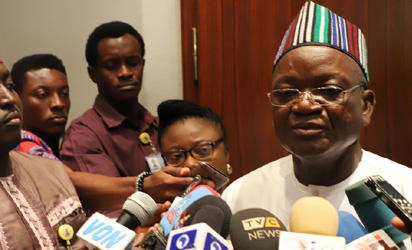 Apparently irked by the failure of the federal government to put a stop to the killings, the elders of the socio-cultural groups, which comprises Mdzough U Tiv, Idoma National Forum and Omi Ny' Igede, said what was needed, especially at a time of severe security challenges in the state, were words that promote peace and unity between farmers and herdsmen rather than violence.
At a press conference in Abuja on the recent killing of about 26 people of Benue in Okpokwu Local Government by armed Fulani herdsmen, the elders said the body language and utterances of government officials have not convinced the people of Benue of the federal government's willingness to protect and defend them in line with their constitutional roles.
Barr Amali Adoya Amali, who spoke on behalf of the elders, accused President Muhammadu Buhari and the Inspector-General of Police, Ibrahim Idris, of making unguarded statements that could fuel violence in the state.
Amali, who expressed disappointment over the federal government's failure to create a conducive environment for dialogue between aggrieved parties in the state, said the people of the state would resist any move to impose a state of emergency in Benue over the continued killings in the state.
"The President himself had said that more people have been killed in Taraba than Benue and Zamfara states put together. Such a statement may be misconstrued to mean that there should be more killings in Benue state.
"The Inspector-General of Police's statement that government should establish free ranches with all infrastructures is an invitation to anarchy and further killings. The IGP acts autocratically and assumes the role of judiciary, legislature and executive.
"We are disappointed by the IGP's call on vigilante to surrender arms without mentioning the armed Fulani herdsmen. The reluctance of the Federal government security agencies to arrest perpetrators, especially Miyetti Allah Kautal Hore, even when they admitted responsibility for the cruel killings in Benue," he said.
The post Okpokwu killings: Benue elders caution FG against inflammatory remarks appeared first on Vanguard News.
Tags 2014
You may also like...