Ojukwu promises to shock Obiano, Nwoye, Obaze
By Chimaobi Nwaiwu
MEGA Progressive Peoples Party, MPPP, governorship candidate for the November 18, 2017 gubernatorial election in Anambra State, Prince Chuma Ojukwu, yesterday, boasted that the incumbent governor of Anambra State, and All Progressives Grand Alliance, APGA, candidate in the election, Chief Willie Obiano, his Peoples Democratic Party, PDP, and All Progressives Congress, APC, counterparts, Mr. Oseloka Obaze and Dr. Tony Nwoye will receive the shock of their lives from him on November 18, when he will be declared the governor of the state.
Prince Ojukwu who emerged MPPP candidate last Saturday after the party's delegate election where he was returned unopposed, said the trio of Dr. Nwoye, Chief Obiano and Mr. Obaze, have nothing to offer the people of the state whom they are still serving or have one time or the other served in the past as to get their mandate to continue to serve the state.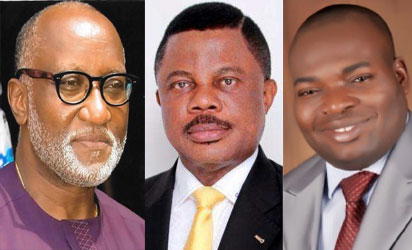 In a statement he personally signed, titled "November 18: Obiano campaigners are finding it difficult" Prince Ojukwu said: "the biggest problem facing members of APGA who are ready and willing to campaign for Obiano in their various towns and villages is what to say about the governors first four years in office and how to say it.
"Most of them are afraid to go to the villages to campaign, because they believe there are no projects in those villages to campaign with. What will a 'vote Obiano for second term campaigner' tell the Ihiala people, Ayamelum and Orumba North, people who have vowed to speak with their Personal Voters Card, PVC, to make matters worse for the Governor. One of his aides told the people of Umunachi that they do not need roads, in Ogbunike, the youths are angry and waiting for November 18, 2017 election to make their statement.
"Agreed that the governor has provided security and built flyover, but for those who want to campaign with flyover, can you tell a villager from Umunze, Awgbu, Amaokpala,Utuh, Ukpor, Uga, Umuchu, Nkerehi, Okija to vote for Obiano because he built flyover at Awka? They will definitely ask you of what importance is that to them.
"However, I will shock all of them at the poll on Election Day. I am only calling for free, fair and credible election by INEC and the rest will be history on November 18, 2017."
The post Ojukwu promises to shock Obiano, Nwoye, Obaze appeared first on Vanguard News.
Tags 2014
You may also like...