Oil exploration endangers 67 Delta, Ondo towns
By Emma Amaize
WARRI—ABOUT 67 Ijaw, Itsekiri and Ilaje coastal communities in Delta and Ondo States are facing perilous times, following oil and gas exploration/exploitation activities of oil firms, which have severely affected their eco-systems. While some of the communities are reportedly sinking, others are facing contamination of their sources of water supply and destruction of their means of livelihood.
A non-natural waterway constructed by oil firms at Polobubor (Tsekelewu), an Ijaw community in Warri North Local Government Area, Delta State to ferry drilling equipment to exploration sites decades ago has put the life and properties of the residents of about 45 other Ijaw communities in the area and Awoye (Ilaje) in Ondo state in jeopardy.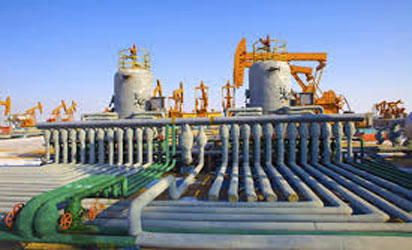 Residents complained that every year, they suffer flooding in their respective communities owing to the seaway created by the CNL, Nigeria Petroleum Development Company, NPDC, which inherited the operations of Shell Petroleum Development Company, SPDC,  and Elcrest E & P Joint Ventures.
They disclosed that the canal which exposed them to the Atlantic Ocean has degraded the ecology of Polobubor, Opuama, Ajagbene, Benikoribor, Celestial, Ogono-ama, Pinakiri, Benmokiri I, Benmokiri II, Ebiama, Benkoro, Amatelemo, Opu-oru-ita, Ojudor-ama, Amatebi, Lagos, Pologbene, Tebubulor, Kpak-atesuo, Oke-kekere, Uroupa, Mezila and Amakemi, all Ijaw communities.
They said that Gulf, now CNL vehemently opposed the protests by the people in the 70s against the canalisation, leading to the arrest and detention of villagers with the backing of the Federal Government until the canalisation was completed in the 70s. To them, several protest letters to the oil companies were disregarded even when they screamed that Oloduwa River (an estuary that links the Atlantic Ocean),from which Tsekelewu villagers draw from to cook, bath and drink, has been contaminated by thick, oil-based sludge materials.
At press time, NDV electronic mail inquiry, last Friday, to the CNL has not been responded to, but an official maintained that the company will definitely respond during the week.
'Our communities are sinking'
A former Commissioner in Delta state and Itsekiri leader, Chief Omolubi Newuwumi, told NDV: "The federal, state and all other relevant nongovernmental organisations should come to the aid of Itsekiri people, particularly those of us in the oil producing communities.
I have done research which has led me to believe that the exploration in our areas that is being carried out by the multinationals is causing flooding. I noticed that because of exploration, the ground, our earth is sinking and because it is sinking, a particular time of the year, especially during the rainy season, there is always bound to be flood everywhere and now, it is increasing in our communities.
"The communities that surround the ocean are also a  toxic because of this same exploration, I am calling and begging the Federal and State Governments, relevant agencies to come and do something to alleviate the sufferings of our people. They can employ the services of relevant environment experts on problems facing our communities in the riverine area, particularly in my local government area, Warri North. It is now a culture that every year, at least twice in a year, every place is flooded when the tide is at its peak. It occurs twice a year," he asserted.
Newuwumi listed Ugugegin, Oboghoro, Utonlila, Eketie, Ebokite, Ekekporo, Usor, Tisun, Kolokolo, Deghele, Batenren, Eghoro, Ebroyinmi, Ogaghoro, Tebu and  Jakpa communities in Warri South West and Warri North local government areas as the Itsekiri swamped at least twice a year  due to effects of oil exploration and exploitation.  He also said Ogheghe-Egoro Oke, Ogheghe Demegun Dimesun, Orere, Ajosobo, Akpakpa, Orubu seashore communities in Warri North and Warri South were plunging.
Leave our communities— Ijaw youth leader
Youth president, Polobubo communities, Gabriel Ojiko, lamented that the communities affected by the man-made canal have been left to bear the negative environmental impact of oil exploration the oil conglomerate, "which singular care is crude oil and not sustainability of the environment or sanctity of human life."
He said the troubles of the oil-bearing communities have been compounded as it were by the lack of a Memorandum of Understanding (MoU) between Nigerian Petroleum Development Company (NPDC), Elcrest E & P Nigeria Limited Joint Venture in most of the risky operations. It is our demand that NPDC, Elcrest E & P Nigeria Limited Joint Venture   should stop further oil exploration activities in our areas. They should vacate the area as they are of no benefit to their host communities, which are greatly impacted negatively by their activities.
"They continue to destroy our environment and the future of the unborn. We will not allow that to happen to any of the Niger Delta communities. They should pack out of the area as we can no longer bear the hardship. We call on the International Community, Amnesty International and National Assembly to intervene to suspend their operational licenses or impose serious sanctions on such companies," he said.
He bemoaned: "Coupled with these, we lack the basic human developmental infrastructure, no functional health care centre, facility or personnel; no electricity, as we are cut off from the national grid; no source of drinking water, as the only natural source i.e., the Oloduwa River is contaminated; the only secondary school is beleaguered by a lack of motivated and qualified personnel and bereft of instruments of learning, recreation and sports. There exists no tarred road in any of these communities, there is no market in which wares/service/skill can be traded as the old market hung on slits by the banks of the Oloduwa River has been eroded by the artificial canal."
Our findings—IPDI
A nongovernmental organisation, Ijaw People's Development Initiative, IPDI, which undertook a fact-finding tour of some of the affected communities, in a report signed by the National President,  Ozobo Austin, Acting Spokesperson, Mayor Ogobiri and Director, Community Assessment Programme, CAP, Ezekiel Kagbala, said: "The environment of Polobubor and other oil-bearing communities such as Gbokoda (Itsekiri), Awoye (Ilaje) and 44 other communities have been ravaged.
"The social-economic fabric of the communities have been shredded to such an extent that transportation, agriculture and meaningful economic ventures and avenues of human development have all been stymied with the air stifled, soil decimated and water contaminated.
It stated: "Part of our findings is that construction of this canal by oil multinationals precipitously altered the entire ecosystem of these communities, its construction also deposited a thick oil based sludge-like materials, which have replaced the primordial shoreline with soot and have polluted and altered the natural depth of the river to such an extent that water transport vessels cannot navigate and forcing aquatic life into extinction."
IPDI, which called for the revocation of the operational licenses of the oil firms, asserted: "It is pertinent to note that Tsekelewu and other oil producing communities in Egbema and its surrounding communities are being marginalized. It is our clarion call that operational licenses of the above oil multinationals be withdrawn and sanctioned for failing to live up to expectation and non-upholding of international standards in their dealings with host communities in Niger Delta region.
Horrible
"Very bad is the continual contamination and degradation of the ecology of the Oloduwa River and the attendant deleterious effects on Polobubo and other coastal communities.  It appears that successive governments, both at federal, state and local government levels and oil companies operating in the area are being wicked and callous. This environmental degradation is occasioned by the actions of both NPDC) and CNL due to the construction of an artificial canal (designed as a causeway, constructed for the sole purpose of bringing heavy drilling equipment to aid oil exploration), which has adversely affected the hydrology of these communities and is now causing annual flooding.
"Polobubo was originally fresh water habitat, but since the creation of this artificial canal, salt water from the ocean has completely altered the eco-system and endangered the communities' means of survival to such an extent that the traditional fishing grounds,  which  constitute the only source of drinking water have been wiped out. This artificial canal not only allows the saline waters of the Atlantic into freshwater sources, but has also caused a  of drinking water, endangered numerous species of plants, animals and fishes.
"NPDC, Elcrest E&P Joint Ventures Limited are being inhumane, it is our clarion call that their operational licenses be withdrawn, as it has proven that such companies are are not able to operate oil businesses in the country and  in spite of the clear existential threat caused by oil pollution and the activities of oil exploration in these oil-bearing communities.
"No palliative measure has yet been taken by CNL and NPDC to address these negative environmental impacts in clear breach and violation of the Petroleum Act, Cap. P10 LFN, 2004 which, provides that the holder of an oil exploration license, oil prospecting license, or oil mining lease shall in addition to any liability for compensation be liable to pay fair and adequate compensation for the disturbance of surface or other rights to any person, who owns or is in lawful occupation of the licensed or leased lands.
"The people of Polobubo (Tsekelewu) are undergoing untold hardship, they drink from the polluted river water and they bath with it, wash with it and cook with it. Fishing and farming businesses are no longer lucrative. In the midst of this ugly situation, the government and the oil companies, which are the chief orchestrators of their suffering, remain mute."
Illegality: IPDI asserted: "Pursuant to Sections 14 (a), (b) and (c) of the Oil Pipelines Act (as amended), an oil pipeline licensee is prohibited from making any construction in, under or over, or depositing materials in or altering the flow of water required for domestic, industrial or irrigation use, thereby diminishing or restricting the quality of water available for these purposes, or constructing works or making deposits in any waterways that would cause flooding or erosion without the prior permission in writing of the Minster. This prior permission was not sought and was not obtained by CNL in the construction of this canal," it contended.
No EIA, EIS before and after construction: It added: "Also of concern is the absence of both an Environmental Impact Assessment (EIA) before the construction of this artificial canal and an Environmental Impact Statement (EIS) as stipulated pursuant to the Environmental Impact Assessment Act, 1992. This was not issued before or after the project was completed.
"It is incomprehensible how the inhabitants of these communities cope under immense pressure induced by the extinction of a wide range of their natural resources, ranging from the mangrove forest: once a vital ecosystem relied upon for herbal medicine, fisheries, timber etc, now inundated by debris emanating from the sea as a result of CNL's poorly designed and constructed canal," the group added.
Demand: IPDI demanded: "The affected communities, Polobubor (Tsekelewu) communities should be land-filled; we want the government at all levels to come to the aid of affected communities and equally to prevail on Chevron Nigeria Limited, the chief orchestrator of their sufferings to dredge the creeks to avoid seasonal flooding of the communities.
"We equally demand that the artificial canal be closed, we call on President Muhammadu Buhari and Delta state Government to prevail on Chevron Nigeria Limited to close the artificial canal, which is causing flooding in the communities, so that even after dredging, Polobubo creek can sustain its normal depth, rather than being overwhelmed by silt deposits within a short period after dredging.
"It is our resolution that NPDC/Elcrest E&P joint ventures be prevailed upon by President National Assembly and Delta State governor, Senator Ifeanyi Okowa, to sign MoU with its host to avoid break down of law and order. It is imperative that Land Reclamation projects be awarded in Polobubor and other affected communities. We want the government and their collaborators to reclaim the land, which the people have lost due to oil exploration activities.
"It is our demand that youths in the communities should be given employment by oil multinationals in such areas. Some companies are operating in the vicinity without employing the youths, example NPDC and Elcrest E & P Nigeria Limited have been operating in Polobubor for the past four years without a proper MoU or employment and training plan. In fact most communities are out rightly neglected and denied of benefits from oil exploration activities in OML 40," IPDI said.
The group said: "It is our desire that a tertiary institution such as a polytechnic be established in the area to enable the youths access higher institutions with lesser costs."
The post Oil exploration endangers 67 Delta, Ondo towns appeared first on Vanguard News.
Tags 2014
You may also like...